Our School House System
At Humphry Davy School we care about the individual child. Students thrive best in an atmosphere where they feel valued and secure. The needs of our students as individuals and their physical, moral, cognitive, social and emotional development form the basis of the school's pastoral structure.
At the centre of our pastoral structure is our House System. We have 6 amazing houses. Each House is led by a house leader, supported by a team of house tutors/mentors.
Each tutor/mentor is responsible for a small group of students and therefore able to build stronger relationships with each individual based on detailed and personal understanding.
On entry into the school each student is allocated to a house and a tutor/mentor group.
The tutor/mentor meets the group daily sessions and assemblies. The tutor/mentor not only has responsibility for the students' welfare on a day to day basis but plays an important part in raising achievement through target setting and supporting students academically.
All mentors work closely with a house leader and members of the leadership team who are involved in individual target setting and student tracking.
Meet our House Leaders!
Kemeneth!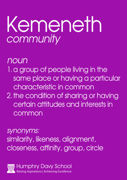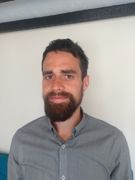 The House Leader for Kemeneth house this year is Mr Leonard.
"I'm originally from Essex, but I've lived in Bristol and Falmouth before coming to Penzance. I've previously worked as a fish and chip fryer, tour guide, labourer and art gallery volunteer - before becoming an English teacher. I've travelled the world a couple of times, and once presented a ceremonial drink to the president of Fiji (and messed up the lines quite badly). I genuinely love reading, I watch too many films, I enjoy wild swimming and I could probably eat my body weight in chips!"
Sowena!

The House Leader for Sowena house this year is Miss Pollock.
"Hi! I'm Miss Pollock and I am the Head of Sowena House. As well as being a house leader, I am also an English teacher and love to be creative! In my spare time I like to go on walks with my dogs, Remus and Baxter (hopefully the Harry Potter fans will recognise the name!). I love working at HDS and cannot wait to support you in your time here!"

Aweni!
The House Leader for Aweni house is Mr Brown.
"I have worked for HDS for a total of 15 years now! At weekends and evenings you will often find me on Sennen beach where I have been a Surf Coach for the last decade! Before starting at HDS I worked as a Youth Worker with the Hayle Youth Project. I am happily married and have two lovely children. I love to surf, spend time with my family, fish, basically anything involving the sea you can count me in! My dislikes include walnuts and jelly babies!"
Tevi!
The House Leader for Tevi house is Mrs Sigrist Smith.
"I am Mrs Sigrist Smith and I am house lead for Tevi house as well as a Textiles and Catering teacher at Humphry Davy School. I love walking with my scruffy poodle who lives up to her name 'Tatty'. I have dual nationality and am half Swiss as well as Cornish! I love love love 'The Great British Sewing Bee' and am found often in my own little studio at home making clothing for myself, or toys for my little one, whilst eating a nice slice of cake! I am super proud to be house lead of Tevi house. Tevi is Cornish for grow; I think 'grow' is the best starting point for us all. To grow is to develop, to shoot up, to spring up but more importantly to do something over time; to raise, to rear, to nurture, to emerge to bloom to bud. We are all growing and blooming and with these accolades we strive to succeed and learn along the way. We are the colour orange for our house which also has excellent merit as it indicates joy, sunshine, happiness as well as a sense of general wellness and emotional wellbeing. 'It takes courage to grow up and be who you really are' E.E Cummings."
Medra!
The House Leader for Medra house is Mrs Thurston.
"I'm Mrs Thurston and I'm House Leader for Medra House and Head of Lower School (which includes years seven, eight and nine). I have been teaching at Humphry Davy School for eleven years and I love that the community feeling that I felt when I came for an interview at the school all that time ago, is still the same feeling I get now when I come to work every day!
Medra means aspire, which to me is all about belief in yourself. As Theodore Roosevelt, 26th President of the USA, once said 'Believe in yourself and you're halfway there!'. It is only with this belief in ourselves, and our own abilities, that we can begin to accept who we are and challenge ourselves to be better!"
Longya!
The House Leader for Longya house is Mr Ball.
"I am Mr Ball and the proud House Leader for Longya. I'm a PE teacher here at HDS, as well as Head of Upper School (Years 10 and 11), and have been at the school for 16 years. I enjoy most sports but have a particular passion for rugby and love spending time on the beach with my family during the summer. I also enjoy listening to podcasts, making sure I keep fit by taking part in regular exercise and eating chocolate! Come and find me and ask me anything about the school, you are going to really enjoy your time here."
Connect with us
Humphry Davy School
25 Sep 2021
Today, we welcomed Year 6 pupils to HDS for some 'Super Saturday' fun! We've had a brilliant day and we hope you enjoyed it too! Click here to see more photos! https://bit.ly/2Wcwyhv We look forward to seeing you again at our Open Day and Evening on Thursday 7th October.
Humphry Davy School
23 Sep 2021
A huge 'well done' to all who auditioned for a music scholar place today! It was lovely hearing your wonderful music coming through the doors of the gallery. We wish you all the best of luck!
Humphry Davy School
16 Sep 2021
Applications to become a HDS Music Scholar are now OPEN! If your child can sing or play an instrument and wants to unlock the next steps of their musical potential, they should apply to become one of our Music Scholars this academic year. Application forms are available at reception NOW! The deadline for all applications is Monday 20th September at 9am.
Humphry Davy School
13 Sep 2021
At HDS we pride ourselves on our friendly and welcoming community and outstanding standard of care and support to ensure all children are safe, happy and successful from the moment they join us. We currently have a range of opportunities to join our ever growing team of staff. For more information about how to apply please visit our website. https://www.humphry-davy.cornwall.sch.uk/.../staff-vacancies
Humphry Davy School
9 Sep 2021
Today our students were treated to a performance on the plinth from our wonderful music department! Music brings so much joy and what a fabulous way to welcome our students back to school after their summer holidays. If your child is interested in signing up for music lessons, be sure to check out the wide range of instrumental lessons we have on offer. For more information on how to sign up and get involved, visit our website today! www.humphry-davy.cornwall.sch.uk/3717/instrumental-lessons Welcome back everyone!!
Humphry Davy School
26 Aug 2021
Yesterday, on the final day of our Time2Move programme, we welcomed students who will be moving into Years 9, 10 and 11 in September! It certainly looked like you were having a great time, and it was brilliant to see you working together and supporting each other during the activities. We have really enjoyed hosting the programme over the past few days, and we are now looking forward to the return of the whole school in September! Check out our website for more photos! https://www.humphry-davy.cornwall.sch.uk/2331/news/post/952/time2move-summer-2021-day-three Enjoy the rest of the summer break!
Humphry Davy School
24 Aug 2021
Another fantastic day of activities here at HDS! The sun shone brightly as we welcomed back students who will be moving into Year 8 this September. It was great to see your enthusiasm, energy and sense of fun as you got involved in the activities on offer. Enjoy the rest of your summer break, and we'll see you again very soon! Check out our website for more photos from today! https://www.humphry-davy.cornwall.sch.uk/2331/news/post/951/time2move-summer-2021-day-two
Humphry Davy School
24 Aug 2021
Yesterday, our new Year 7 intake joined us for our Time2Move programme. With netball, archery, bush craft and martial arts activities taking place throughout the day, there was something exciting for everyone to get involved with! It was great to see so many smiling faces, and to welcome you back to HDS once again. We are really looking forward to seeing you again in September! Check out our website for more photos! https://www.humphry-davy.cornwall.sch.uk/2331/news/post/948/time2move-summer-2021
Humphry Davy School
12 Aug 2021
Today is Results Day and we would like to say a massive 'well done' to all our Year 11 students! It was great to see your smiling faces today and it was a wonderful opportunity to catch up. Your results reflect the dedication and hard work you have put in over your five years with us and you should all be very proud! We wish you all the very best and look forward to staying in touch!
Humphry Davy School
4 Aug 2021
HDS is looking forward to hosting Dynamos Cricket from the 16th to 19th August (6-8pm). Dynamos is a free cricket course for children aged between 8 and 11 yrs. Please contact Chris Anderson to book your child's place now! Tel: 07891 346084 or Email: scdo@cornwallcricket.co.uk
Humphry Davy School
30 Jul 2021
What an AMAZING week we've had at HDS! As well as excitedly following the progress of Alumna Helen Glover at the Tokyo 2020 Olympics, we've been busy hosting our annual summer school for students joining our HDS family in the Autumn term. Students spent the week getting involved in a huge variety of transition activities, having great fun with our fantastic staff and, most importantly, making new friends! Click below to check out the gallery of images from the week https://www.humphry-davy.cornwall.sch.uk/2331/news/post/928/summer-school-2021 Year 7 2021 students, it was a delight spending time with you! We've had a brilliant week and, judging by the smiles on your faces, you did too! We look forward to seeing you again on the 23rd August for our Time2Move programme, and to welcoming you into Year 7 in September. Enjoy the rest of the holiday, and we'll see you soon! From all at HDS.
Humphry Davy School
29 Jul 2021
Double Olympic Gold Medallist Helen Glover - amazing athlete, super mum and role model for all our students here at Humphry Davy School - had every reason to hold her head high after just missing out on the medals this morning with GB team mate, Polly Swann. Helen, you gave it your all, and your amazing life journey continues to inspire us all. Wishing you a safe journey home and some well-deserved time with your family! We are very much looking forward to welcoming you back to your home town here in Penzance and celebrating all your achievements. Best wishes from all at Humphry Davy School!
Humphry Davy School
28 Jul 2021
We were excited to see Alumna Helen Glover and her GB team-mate, Polly Swann, finish second in the semi-final of the women's pair earlier this morning in Tokyo. We are sending you the best of luck for tomorrow's final! We know you can do it! Go Team GB!
Humphry Davy School
22 Jul 2021
Check out all the wonderful things our music department have to offer! If your child is interested in signing up for music lessons with any of our fantastic team get in touch now!
Humphry Davy School
9 Jul 2021
Our summer production of 'A Midsummer Night's Dream' was a wonderful success and we have had some lovely feedback from many audience members! A Shakespeare play performed 'in the round' is big change from our usual Christmas Panto but our students embraced the challenge and delighted in the opportunity to take part. Pupils from local primary schools were invited to be our first audience members and, whilst sitting on hay bales and blankets, watched our students perform their version of the bard's comedy with glee. It was lovely to see our students grow throughout the process of this play and the outcome was a truly wonderful show that was enjoyed by many. In such uncertain times we know that creating this play has been an enriching experience for them all. The dedication, time, effort and talents of our young people really shone through to enable us to bring the show to life, well done everyone involved. We cannot wait to see what you come up with next!
Humphry Davy School
9 Jul 2021
We have had a wonderful week welcoming Year 6 pupils for their HDS taster days this week. These days are always a great opportunity for the pupils to spend some time in their new school before they start in September. The pupils have taken part in a range of exciting activities including making dream catchers, experiencing our professional kitchens with some monster muffin baking, playing music and even building their own rockets in science! We've had so much fun spending time with them and can't wait for them to join us again for Summer School before starting y7 in September! Welcome to the HDS family!
Humphry Davy School
8 Jul 2021
HDS remains committed to ensuring our students are equipped with vital lifesaving skills. Each year we provide training for our students. On Monday, our Year 7 cohort started training with the PE staff, it was fantastic to be able to resume our students' CPR training programme! Well done Year 7 for enthusiastically getting involved!
Humphry Davy School
8 Jul 2021
At HDS we pride ourselves on our friendly and welcoming community and outstanding standard of care and support to ensure all children are safe, happy and successful from the moment they join us. We currently have a range of opportunities to join our ever growing team of staff. For more information about how to apply please visit our website. https://www.humphry-davy.cornwall.sch.uk/2343/staff-vacancies
Contact Us
Headteacher William Marshall
Humphry Davy School, Coombe Road, Penzance,
Cornwall, TR18 2TG
Cookie Policy:
We use cookies on this site to improve your user experience.
More Information