Our School House System
At Humphry Davy School we care about the individual child. Students thrive best in an atmosphere where they feel valued and secure. The needs of our students as individuals and their physical, moral, cognitive, social and emotional development form the basis of the school's pastoral structure.
At the centre of our pastoral structure is our House System. We have 6 amazing houses. Each House is led by a house leader, supported by a team of house tutors/mentors.
Each tutor/mentor is responsible for a small group of students and therefore able to build stronger relationships with each individual based on detailed and personal understanding.
On entry into the school each student is allocated to a house and a tutor/mentor group.
The tutor/mentor meets the group daily sessions and assemblies. The tutor/mentor not only has responsibility for the students' welfare on a day to day basis but plays an important part in raising achievement through target setting and supporting students academically.
All mentors work closely with a house leader and members of the leadership team who are involved in individual target setting and student tracking.
Meet our House Leaders!
Kemeneth!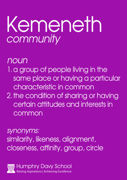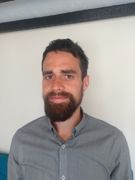 The House Leader for Kemeneth house this year is Mr Leonard.
"I'm originally from Essex, but I've lived in Bristol and Falmouth before coming to Penzance. I've previously worked as a fish and chip fryer, tour guide, labourer and art gallery volunteer - before becoming an English teacher. I've travelled the world a couple of times, and once presented a ceremonial drink to the president of Fiji (and messed up the lines quite badly). I genuinely love reading, I watch too many films, I enjoy wild swimming and I could probably eat my body weight in chips!"
Sowena!

The House Leader for Sowena house this year is Miss Pollock.
"Hi! I'm Miss Pollock and I am the Head of Sowena House. As well as being a house leader, I am also an English teacher and love to be creative! In my spare time I like to go on walks with my dogs, Remus and Baxter (hopefully the Harry Potter fans will recognise the name!). I love working at HDS and cannot wait to support you in your time here!"

Aweni!
The House Leader for Aweni house is Mr Brown.
"I have worked for HDS for a total of 15 years now! At weekends and evenings you will often find me on Sennen beach where I have been a Surf Coach for the last decade! Before starting at HDS I worked as a Youth Worker with the Hayle Youth Project. I am happily married and have two lovely children. I love to surf, spend time with my family, fish, basically anything involving the sea you can count me in! My dislikes include walnuts and jelly babies!"
Tevi!
The House Leader for Tevi house is Mrs Sigrist Smith.
"I am Mrs Sigrist Smith and I am house lead for Tevi house as well as a Textiles and Catering teacher at Humphry Davy School. I love walking with my scruffy poodle who lives up to her name 'Tatty'. I have dual nationality and am half Swiss as well as Cornish! I love love love 'The Great British Sewing Bee' and am found often in my own little studio at home making clothing for myself, or toys for my little one, whilst eating a nice slice of cake! I am super proud to be house lead of Tevi house. Tevi is Cornish for grow; I think 'grow' is the best starting point for us all. To grow is to develop, to shoot up, to spring up but more importantly to do something over time; to raise, to rear, to nurture, to emerge to bloom to bud. We are all growing and blooming and with these accolades we strive to succeed and learn along the way. We are the colour orange for our house which also has excellent merit as it indicates joy, sunshine, happiness as well as a sense of general wellness and emotional wellbeing. 'It takes courage to grow up and be who you really are' E.E Cummings."
Medra!
The House Leader for Medra house is Mrs Thurston.
"I'm Mrs Thurston and I'm House Leader for Medra House and Head of Lower School (which includes years seven, eight and nine). I have been teaching at Humphry Davy School for eleven years and I love that the community feeling that I felt when I came for an interview at the school all that time ago, is still the same feeling I get now when I come to work every day!
Medra means aspire, which to me is all about belief in yourself. As Theodore Roosevelt, 26th President of the USA, once said 'Believe in yourself and you're halfway there!'. It is only with this belief in ourselves, and our own abilities, that we can begin to accept who we are and challenge ourselves to be better!"
Longya!
The House Leader for Longya house is Mr Ball.
"I am Mr Ball and the proud House Leader for Longya. I'm a PE teacher here at HDS, as well as Head of Upper School (Years 10 and 11), and have been at the school for 16 years. I enjoy most sports but have a particular passion for rugby and love spending time on the beach with my family during the summer. I also enjoy listening to podcasts, making sure I keep fit by taking part in regular exercise and eating chocolate! Come and find me and ask me anything about the school, you are going to really enjoy your time here."
Connect with us
Humphry Davy School
11 Jun 2021
On Thursday 27th May, just before half term, Year 11 students were treated to a final rewards trip down on the beach! Student Aoife told us, "It's been an emotional few day leaving HDS and this surfing trip was an amazing way to finish off our journey. It was fantastically fun to make some final memories with our peers and teachers; with some great nose dives and wipe-outs along the way!" We are so lucky to live where we do and we love making the most of what our beautiful county has to offer! We would like to wish all our Year 11's the very best of luck with their future and look forward to seeing you all very soon.
Humphry Davy School
10 Jun 2021
We would like to wish Mareme and Isaac the best of luck for their journalistic experience over the G7 summit! After applying for the role both students were chosen from hundreds of applicants from across Cornwall and became two of the eleven local students chosen! They are spending three days at Falmouth University media hub where they are hoping to interview some of the G7 attendees! Good luck, and we look forward to hearing all about it!
Humphry Davy School
10 Jun 2021
Massive congratulations to HDS Alumni and Olympic Gold Medallist, Helen Glover, on making Team GB for this year's Tokyo Olympics! You continue to be an inspiration to all our students and we look forward to seeing you compete once more. Exciting times ahead!
Humphry Davy School
28 May 2021
This term HDS students have been adventuring in our stunning Cornish landscape as part of their Bronze Duke of Edinburgh's Award. Although the expeditions could not take place in their usual way due to national restrictions, the Duke of Edinburgh's Award is a valuable (and life- changing) experience for many of our students, and we did not want them to miss out! Check out our video to see how much fun they had!
Humphry Davy School
27 May 2021
Student activists and 'Plastic Free HDS' supporters, Ida and Lily, talk with local MP and the UK Environment Minister, George Eustice, to challenge what he is doing to tackle climate change and his thoughts about the Climate and Ecological Emergency Bill. Growing up in Cornwall both our students are extremely passionate about the beautiful environment we all call home. In their fifteen and sixteen years of living they have seen first-hand the devastating effects of climate change and have made it their mission to raise awareness around the issue. A short video has been created on some of the key points of their discussion with Mr Eustice, forming an interesting watch for all, be sure to check it out. https://www.youtube.com/watch?v=Zxog_gN9aj0
Humphry Davy School
25 May 2021
We pride ourselves on creating 'a sense of belonging' at Humphry Davy and even as our Year 11 students embark upon the next steps in their educational journey, we are supporting them all of the way. A reminder here to check into Satchel:One every day in June to access a pick and mix menu of post 16 materials connected to careers and to aid preparation for college/apprenticeships etc and to access Mrs Richard's summary of college and apprenticeship opportunities. 'Come and See Open Events' have just been advertised for Year 11 students who may want to look around Truro, Penwith and Callywith Colleges prior to September 2021. Dates are: Penwith College - 24 June | Callywith College - 3 July | Truro College - 7 July
Humphry Davy School
20 May 2021
Congratulations to everyone who took part in the first Penwith Mixed Football Tournament yesterday! It was our team's first tournament outside of school and they demonstrated determination, excellence and respect. The team won all of the games they played throughout the tournament and claimed first place! Well done team, what an achievement!
Humphry Davy School
14 May 2021
Today we joined Pirate FM in raising money as part of their first Cash for Kids Day! This past year has certainly been difficult for everyone, but there are many families living in Cornwall who have reached crisis point and are in need of assistance; all funds raised today will go towards assisting those in the most need. Thank you to everyone who donated money to this well deserving cause!
Humphry Davy School
12 May 2021
Huge congratulations to HDS Alumni, James! Whilst at school James always displayed a real flare and passion for catering and it was clear that he would go on to do amazing things. He gained the title of 'Future Chef Champion' whilst at HDS, impressing the judges with his tasty dish. This month James took part in the national competition, 'Master Chefs of Great Britain' for Sustainable Seafood. With strong competition from coast to coast – Scotland to Cornwall – from professional to novice cooks, James was crowned the winner! What a fantastic achievement, you should be so proud! James continues to study catering at Penwith College and will be joining some of our Year 9 classes later this year for some seafood related workshops! We love keeping in touch with ex-students and hearing of their fantastic achievements. If you are a HDS leaver be sure to sign up to our alumni association and stay in touch!
Humphry Davy School
27 Apr 2021
There is an amazing opportunity with NCS this summer! Students were shown a short video today about the chance to join the National Citizen Service programme this summer for either a 2 or 3 week programme, involving adventurous activities with BFAdventure, skill development and a social action project. We would like to highlight what an amazing opportunity this is – students will gain invaluable life skills, get to make a difference in the community, have fun and meet new people. All this is highly valued by colleges, employers and universities! You can learn more here: https://www.bfadventure.org/amazing-ncs-opportunity-16-17-year-olds/ To sign up, visit: https://wearencs.com/
Humphry Davy School
23 Apr 2021
Happy Friday everyone! With the summer term now underway, what a glorious day for our first Duke of Edinburgh practice expedition since lockdown! Have a great day Year 10! We look forward to seeing the photos of your adventure!
Humphry Davy School
21 Apr 2021
Humphry Davy School is proud to have been a hub for our local community for many years. We have excellent facilities available to hire and, with clubs and activities beginning to slowly resume again (in line with the Government guidance) we are keen to re-establish our long standing relationships with community groups, music groups and sports clubs, as well as develop new relationships. If you are looking for a low cost venue for your club/group/activity, please contact us on 01736 363559 and we'll be happy to discuss your requirements. Further information can be found here https://www.humphry-davy.cornwall.sch.uk/2346/hire-our-facilities
Humphry Davy School
13 Apr 2021
Here's the amazing video from yesterday's Year 6 Easter Activities Day! Year 6, we hope to see you all again very soon, and we're really looking forward to welcoming you into Year 7 in September 2021!
Humphry Davy School
12 Apr 2021
Another exciting day at HDS! Today we welcome Year 6 students who will be joining us in September 2021! Lots of happy, smiling faces around the school. We're sure you'll have lots of fun! We'll be posting photos throughout the day and you'll be able to see the full gallery here https://www.humphry-davy.cornwall.sch.uk/2331/news/post/813/year-6-easter-fun
Humphry Davy School
8 Apr 2021
It's been another sunny day at HDS and Year 8 students have been in school for the first of two jam-packed days of activities! With plenty of exciting things to get involved in, there were certainly lots and lots of smiling faces around the site! Today's workshops included: 'Stage Combat'; Games in the Sports Hall; Creative Crafting; T-Shirt Designing; Science Experiments; Kinball; Creative Music; and Rounders! Check out our website to see the full gallery of photographs…and check back later to see the video! https://www.humphry-davy.cornwall.sch.uk/2331/news/post/811/year-8-easter-fun #makingmemories
Contact Us
Headteacher William Marshall
Humphry Davy School, Coombe Road, Penzance,
Cornwall, TR18 2TG
Cookie Notice: We use cookies on this site to improve your user experience.