Our School House System
At Humphry Davy School we care about the individual child. Students thrive best in an atmosphere where they feel valued and secure. The needs of our students as individuals and their physical, moral, cognitive, social and emotional development form the basis of the school's pastoral structure.
At the centre of our pastoral structure is our House System. We have 6 amazing houses. Each House is led by a house leader, supported by a team of house tutors/mentors.
Each tutor/mentor is responsible for a small group of students and therefore able to build stronger relationships with each individual based on detailed and personal understanding.
On entry into the school each student is allocated to a house and a tutor/mentor group.
The tutor/mentor meets the group daily sessions and assemblies. The tutor/mentor not only has responsibility for the students' welfare on a day to day basis but plays an important part in raising achievement through target setting and supporting students academically.
All mentors work closely with a house leader and members of the leadership team who are involved in individual target setting and student tracking.
Meet our House Leaders!
Kemeneth!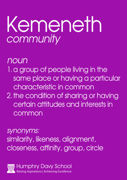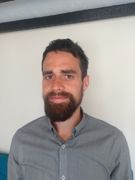 The House Leader for Kemeneth house this year is Mr Leonard.
"I'm originally from Essex, but I've lived in Bristol and Falmouth before coming to Penzance. I've previously worked as a fish and chip fryer, tour guide, labourer and art gallery volunteer - before becoming an English teacher. I've travelled the world a couple of times, and once presented a ceremonial drink to the president of Fiji (and messed up the lines quite badly). I genuinely love reading, I watch too many films, I enjoy wild swimming and I could probably eat my body weight in chips!"
Sowena!

The House Leader for Sowena house this year is Miss Pollock.
"Hi! I'm Miss Pollock and I am the Head of Sowena House. As well as being a house leader, I am also an English teacher and love to be creative! In my spare time I like to go on walks with my dogs, Remus and Baxter (hopefully the Harry Potter fans will recognise the name!). I love working at HDS and cannot wait to support you in your time here!"

Aweni!
The House Leader for Aweni house is Mr Brown.
"I have worked for HDS for a total of 15 years now! At weekends and evenings you will often find me on Sennen beach where I have been a Surf Coach for the last decade! Before starting at HDS I worked as a Youth Worker with the Hayle Youth Project. I am happily married and have two lovely children. I love to surf, spend time with my family, fish, basically anything involving the sea you can count me in! My dislikes include walnuts and jelly babies!"
Tevi!
The House Leader for Tevi house is Mrs Sigrist Smith.
"I am Mrs Sigrist Smith and I am house lead for Tevi house as well as a Textiles and Catering teacher at Humphry Davy School. I love walking with my scruffy poodle who lives up to her name 'Tatty'. I have dual nationality and am half Swiss as well as Cornish! I love love love 'The Great British Sewing Bee' and am found often in my own little studio at home making clothing for myself, or toys for my little one, whilst eating a nice slice of cake! I am super proud to be house lead of Tevi house. Tevi is Cornish for grow; I think 'grow' is the best starting point for us all. To grow is to develop, to shoot up, to spring up but more importantly to do something over time; to raise, to rear, to nurture, to emerge to bloom to bud. We are all growing and blooming and with these accolades we strive to succeed and learn along the way. We are the colour orange for our house which also has excellent merit as it indicates joy, sunshine, happiness as well as a sense of general wellness and emotional wellbeing. 'It takes courage to grow up and be who you really are' E.E Cummings."
Medra!
The House Leader for Medra house is Mrs Thurston.
"I'm Mrs Thurston and I'm House Leader for Medra House and Head of Lower School (which includes years seven, eight and nine). I have been teaching at Humphry Davy School for eleven years and I love that the community feeling that I felt when I came for an interview at the school all that time ago, is still the same feeling I get now when I come to work every day!
Medra means aspire, which to me is all about belief in yourself. As Theodore Roosevelt, 26th President of the USA, once said 'Believe in yourself and you're halfway there!'. It is only with this belief in ourselves, and our own abilities, that we can begin to accept who we are and challenge ourselves to be better!"
Longya!
The House Leader for Longya house is Mr Ball.
"I am Mr Ball and the proud House Leader for Longya. I'm a PE teacher here at HDS, as well as Head of Upper School (Years 10 and 11), and have been at the school for 16 years. I enjoy most sports but have a particular passion for rugby and love spending time on the beach with my family during the summer. I also enjoy listening to podcasts, making sure I keep fit by taking part in regular exercise and eating chocolate! Come and find me and ask me anything about the school, you are going to really enjoy your time here."
Connect with us
Humphry Davy School
13 Apr 2021
Here's the amazing video from yesterday's Year 6 Easter Activities Day! Year 6, we hope to see you all again very soon, and we're really looking forward to welcoming you into Year 7 in September 2021!
Humphry Davy School
12 Apr 2021
Another exciting day at HDS! Today we welcome Year 6 students who will be joining us in September 2021! Lots of happy, smiling faces around the school. We're sure you'll have lots of fun! We'll be posting photos throughout the day and you'll be able to see the full gallery here https://www.humphry-davy.cornwall.sch.uk/2331/news/post/813/year-6-easter-fun
Humphry Davy School
8 Apr 2021
It's been another sunny day at HDS and Year 8 students have been in school for the first of two jam-packed days of activities! With plenty of exciting things to get involved in, there were certainly lots and lots of smiling faces around the site! Today's workshops included: 'Stage Combat'; Games in the Sports Hall; Creative Crafting; T-Shirt Designing; Science Experiments; Kinball; Creative Music; and Rounders! Check out our website to see the full gallery of photographs…and check back later to see the video! https://www.humphry-davy.cornwall.sch.uk/2331/news/post/811/year-8-easter-fun #makingmemories
Humphry Davy School
29 Mar 2021
Massive congratulations to HDS 2020 leaver, Luca, who was selected to dance on the Live final of The Voice UK! Luca travelled to London for a week of rehearsals with five other dancers and performed in three numbers on the show including the judges opening song! What a fantastic opportunity! Luca was the youngest of the dancers and for his first professional job, this is an extremely popular Saturday night ITV show, televised live so he certainly dived straight in at the deep end. Luca loved every minute and described it as 'intense and hard work' but 'amazing'. He continues to train at The Big Dance Company in Penzance with his mentor Lukas Mcfarlane while studying at Penwith College. Well done Luca, we are extremely proud to hear of your achievements and look forwarded to hearing of all your future successes! #HDSAlumni
Humphry Davy School
26 Mar 2021
Thank you to 'the class of 2020' who have visited us over the past two days to collect their GCSE Certificates and Yearbooks. Whilst it was a very brief visit, it was so great to see you and hear about the wonderful journeys you have embarked upon! Your time with us got cut short, and although the usual presentation evening was unable to happen, we hope you enjoy your yearbook; filled with all the wonderful memories you created during your school life. If you were unable to collect your pack please do get in touch with us. Be sure to sign up to our alumni association, we would absolutely love to stay in touch! https://www.humphry-davy.cornwall.sch.uk/2345/hds-alumni-association
Humphry Davy School
24 Mar 2021
In Creative Arts, students have been exploring new material and continuing to demonstrate their creativity! Introduced to Shadow Puppetry during the most recent lockdown, students have been learning about the history of the genre, through to the practical creative processes. We have put together a short video which demonstrates just some of the amazing imaginative work produced by our fantastic students!
Humphry Davy School
23 Mar 2021
Today is #NationalDayofReflection, marking one year since the first coronavirus lockdown was announced. We could not be more proud of how well our incredible students and staff have coped during these unprecedented times. They have risen to all challenges during a time in their lives when many of our students are making big decisions, thinking about their futures and learning so much about themselves. At 12pm today our community will fall silent to reflect on the year that has passed and our condolences will go out to all those who have been bereaved during the pandemic. We are all looking forward to brighter days to come, here's to the FUTURE!
Humphry Davy School
23 Mar 2021
Calling all Year 10 and 11 students! At 5pm tonight Cornwall College are hosting 'Twilight Tasters' to give you a flavour of the courses they offer. Be sure to sign up and get involved!
Humphry Davy School
19 Mar 2021
Happy Red Nose Day everyone! Today we decided to 'do something funny for money' and GUNGE Mr Marshall! Smashing our £850 target, we raised a fantastic £1,062 for Comic Relief charities! It has certainly been a day to remember! #creatingmemories #comicrelief2021 #rednoseday @comicreliefsch
Humphry Davy School
17 Mar 2021
This Friday we will be celebrating Red Nose Day! This year it's never felt more important to have some fun and raise money to support people living incredibly tough lives. We are encouraging all our students to wear red this Friday and bring with them a donation of £1 to help raise funds for Comic Relief charities. If we raise our target of £850 on the day, the whole school will get the opportunity to see Mr Marshall being 'gunged'! In addition to students bringing in a donation to school on Friday, friends and family can also help us meet our target by donating here https://www.justgiving.com/fundraising/humphry-davy-school-rednoseday21 We promise to share the photos with you! #rednoseday2021 #comicrelief2021
Humphry Davy School
16 Mar 2021
Students and staff at HDS celebrated World Book Day last week and despite it being a slightly unusual year we had a great time!
Humphry Davy School
15 Mar 2021
We would like to send out a huge 'thank you' to everyone who donated to our crowdfunding page. We have raised a total of £7,128, with every pound being invested into providing increased laptop and digital access for our local community; improving educational outcomes and investing in our future. Thank you from everyone at Humphry Davy School for your generosity.
Humphry Davy School
11 Mar 2021
During October of last year, Year 9 student Thea became the regional winner of the Shell 'Bright Ideas Challenge'. Yesterday Thea received her prize….her very own 3D printer! The printer will enable Thea to continue with her creative STEM and design projects at home. We can't wait to hear about more of her 'bright ideas' and see what she creates on this awesome gadget! Congratulations Thea!
Humphry Davy School
10 Mar 2021
Well done to Jacob and Tom who were awarded 'Star of the Week' last week. Congratulations and keep up the fantastic work!
Humphry Davy School
8 Mar 2021
It's #InternationalWomensDay today and we're celebrating all the brilliant women in our school community and around the world! On this day of appreciation we would also like to share this message from a truly inspirational woman, HDS Alumni Helen Glover, who recorded some words of encouragement for our students. Reminding them of the fantastic effort they continue to put in during these uncertain times. If there is a woman you'd like to thank for inspiring or supporting you during your school life, give them a shout-out in the comments!
Humphry Davy School
7 Mar 2021
Spring has officially sprung here at HDS. The daffodils and crocus are in full bloom in our memorial garden just in time for you all to return to us on Monday! We are looking forward to having you all back.
Contact Us
Headteacher William Marshall
Humphry Davy School, Coombe Road, Penzance,
Cornwall, TR18 2TG
Cookie Notice: We use cookies on this site to improve your user experience.