Our School House System
At Humphry Davy School we care about the individual child. Students thrive best in an atmosphere where they feel valued and secure. The needs of our students as individuals and their physical, moral, cognitive, social and emotional development form the basis of the school's pastoral structure.
At the centre of our pastoral structure is our House System. We have 6 amazing houses. Each House is led by a house leader, supported by a team of house tutors/mentors.
Each tutor/mentor is responsible for a small group of students and therefore able to build stronger relationships with each individual based on detailed and personal understanding.
On entry into the school each student is allocated to a house and a tutor/mentor group.
The tutor/mentor meets the group daily sessions and assemblies. The tutor/mentor not only has responsibility for the students' welfare on a day to day basis but plays an important part in raising achievement through target setting and supporting students academically.
All mentors work closely with a house leader and members of the leadership team who are involved in individual target setting and student tracking.
Meet our House Leaders!
Kemeneth!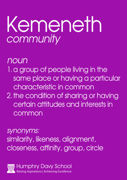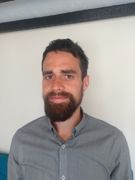 The House Leader for Kemeneth house this year is Mr Leonard.
"I'm originally from Essex, but I've lived in Bristol and Falmouth before coming to Penzance. I've previously worked as a fish and chip fryer, tour guide, labourer and art gallery volunteer - before becoming an English teacher. I've travelled the world a couple of times, and once presented a ceremonial drink to the president of Fiji (and messed up the lines quite badly). I genuinely love reading, I watch too many films, I enjoy wild swimming and I could probably eat my body weight in chips!"
Sowena!

The House Leader for Sowena house this year is Miss Pollock.
"Hi! I'm Miss Pollock and I am the Head of Sowena House. As well as being a house leader, I am also an English teacher and love to be creative! In my spare time I like to go on walks with my dogs, Remus and Baxter (hopefully the Harry Potter fans will recognise the name!). I love working at HDS and cannot wait to support you in your time here!"

Aweni!
The House Leader for Aweni house is Mr Brown.
"I have worked for HDS for a total of 15 years now! At weekends and evenings you will often find me on Sennen beach where I have been a Surf Coach for the last decade! Before starting at HDS I worked as a Youth Worker with the Hayle Youth Project. I am happily married and have two lovely children. I love to surf, spend time with my family, fish, basically anything involving the sea you can count me in! My dislikes include walnuts and jelly babies!"
Tevi!
The House Leader for Tevi house is Mrs Sigrist Smith.
"I am Mrs Sigrist Smith and I am house lead for Tevi house as well as a Textiles and Catering teacher at Humphry Davy School. I love walking with my scruffy poodle who lives up to her name 'Tatty'. I have dual nationality and am half Swiss as well as Cornish! I love love love 'The Great British Sewing Bee' and am found often in my own little studio at home making clothing for myself, or toys for my little one, whilst eating a nice slice of cake! I am super proud to be house lead of Tevi house. Tevi is Cornish for grow; I think 'grow' is the best starting point for us all. To grow is to develop, to shoot up, to spring up but more importantly to do something over time; to raise, to rear, to nurture, to emerge to bloom to bud. We are all growing and blooming and with these accolades we strive to succeed and learn along the way. We are the colour orange for our house which also has excellent merit as it indicates joy, sunshine, happiness as well as a sense of general wellness and emotional wellbeing. 'It takes courage to grow up and be who you really are' E.E Cummings."
Medra!
The House Leader for Medra house is Mrs Thurston.
"I'm Mrs Thurston and I'm House Leader for Medra House and Head of Lower School (which includes years seven, eight and nine). I have been teaching at Humphry Davy School for eleven years and I love that the community feeling that I felt when I came for an interview at the school all that time ago, is still the same feeling I get now when I come to work every day!
Medra means aspire, which to me is all about belief in yourself. As Theodore Roosevelt, 26th President of the USA, once said 'Believe in yourself and you're halfway there!'. It is only with this belief in ourselves, and our own abilities, that we can begin to accept who we are and challenge ourselves to be better!"
Longya!
The House Leader for Longya house is Mr Ball.
"I am Mr Ball and the proud House Leader for Longya. I'm a PE teacher here at HDS, as well as Head of Upper School (Years 10 and 11), and have been at the school for 16 years. I enjoy most sports but have a particular passion for rugby and love spending time on the beach with my family during the summer. I also enjoy listening to podcasts, making sure I keep fit by taking part in regular exercise and eating chocolate! Come and find me and ask me anything about the school, you are going to really enjoy your time here."
Connect with us
Humphry Davy School
17 May 2022
Bubbles, Bubbles, Science and Bubbles! Last Wednesday, the 'Explorer Dome' visited HDS to provide an exciting Chemistry Show for Year 7 and 8 students. Students unravelled the mystery of gasses and delighted in the unexpected behaviour of bubbles that float and sink, grow or shrink, burn and even explode! Everyone had a fantastic time, and we look forward to further investigation and experimentation in our science lessons this term.
Humphry Davy School
16 May 2022
The HDS Library is a great place to explore a wide range of both fiction and non-fiction and we continue to encourage all students to get reading! We have been monitoring the amount of words our students have been reading, using our Accelerated Reader programme, and students have been busy quizzing on all their completed books to gain the title of a Word Millionaire! Well done to Poppy on becoming a 'Word Multi-Millionaire', having read over two million words, and to Scarlett and Kit who are our two new 'Word Millionaires'! All have been awarded with a certificate and a prize for their fantastic achievement. You should be very proud! If you have any questions about how to get involved please see Ms Atkins in the library.
Humphry Davy School
13 May 2022
On Monday a group of enthusiastic Year 7 students travelled to the Eden Project for the KYBA (Kernow Youth Book Award) 'Celebration of Reading' event. This was an inspirational day of authors speaking about the writing process, their inspiration, as well as their latest books. There was also a literary quiz in which HDS students excelled in the general literature and Harry Potter section! Our students met authors and poets Emily Barr, Karl Nova, Rob Badcock and Claire Owen and experienced a reading from a young student who has also written several books! We were also treated to a couple of exciting performances by one of the UK's leading poets and hip-hop artists, Karl Nova, that everyone especially enjoyed. There was plenty of time after the show for students to ask questions, get books signed and take photos. The students also took this opportunity to buy themselves several new books and received a generous offer from Rob Badcock who gave them one of his books for free! It was great for the KYBA group to get back to 'business as usual'. So much fun was had by all in attendance, and it was great to be back at the Youth Book Awards!
Humphry Davy School
12 May 2022
Post 16 Options Workshop At HDS, we recognise that leaving secondary school and taking the 'next steps' can be a challenging time for young people. With so many different qualifications and pathways to choose from, receiving a wide range of information and guidance is vital in making informed choices for the future. By engaging with a wide range of professionals and employers, we enable our young people to gain experience and an insight into many different careers. This week, we were excited to welcome three members of our Alumni family back to HDS to deliver a Post 16 options workshop for our Year 10 students. We would like to extend our thanks to Giz Edwards, Imogen Brooks and Sam Rae for giving us an insight into their individual career paths. It was a wonderful experience for our students and it certainly left them all thinking We look forward to welcoming you back soon.
Humphry Davy School
12 May 2022
Congratulations to Year 11 student, Oscar, who is this year's winner of the 'Humphry Davy Prize', awarded by Penzance Town Council. The prize is awarded to a student who best captures the 'spirit' of Sir Humphry Davy. Oscar was selected from all schools in the Penzance area and we couldn't be prouder. He has always been an enthusiastic student and we are happy he has been recognised for his efforts in such a way! Oscar was presented with his prize by the Mayor in a ceremony Tuesday night in St Johns Hall. Well done!
Humphry Davy School
6 May 2022
This week our Prefect team, lead by Mr Ball, have been very busy raising money for Macmillan Cancer Support. They gave our school community plenty of opportunities to get involved including a car wash, cake sale, guess the sweets and a ticketed staff karaoke lunchtime concert! It's been a great week with lots of laughter…and an amazing amount of money raised for a very worthy charity.
Humphry Davy School
6 May 2022
This week our students had the opportunity to visit the Skills Show at Wadebridge Show Ground. The show offered hands on opportunities for our students to try out new skills. Various industries were represented which enabled the students to experience sectors of employment that they had possibly not thought about before. Also, this week, representatives from the Digital Penninsular Network have been in school delivering entrepreneurial workshops for students who have expressed an interest in starting up their own businesses. The workshops culminated in a dragons den style presentation, with students looking at a business idea, how to market their product and the financing involved. Great ideas for the future.
Humphry Davy School
28 Apr 2022
Students from Humphry Davy School travelled to the new Hall for Cornwall to watch Blood Brothers; a musical by Liverpudlian playwright Willy Russell. The musical revolves around twin boys (Mickey and Edward) who are separated at birth and brought up in completely different environments in the city. The play, set in the 1960s, offered our students the opportunity to consider social class, inequality, superstition and fate during this time. The music, staging and acting were truly engaging and inspiring; a fantastic opportunity for our students to experience.
Humphry Davy School
25 Apr 2022
Current Vacancies We currently have a range of opportunities to join our ever growing team of staff: Enrichment and Activities Coordinator Part time Music Teacher Part time Drama Teacher Teaching Assistants Minibus drivers Lead Science Technician For more information about how to apply please visit our website. https://www.humphry-davy.cornwall.sch.uk/2343/staff-vacancies-1 We look forward to hearing from you!
Humphry Davy School
7 Apr 2022
Students and staff were overjoyed to once again take part in the annual Songfest concert at St John's Hall last week. It has been two years since Songfest was held in Penzance and Humphry Davy School were proud to be given the stage for the first half of their two night concert. Songfest celebrates all things to do with the voice and so HDS Music prepared an evening of choirs, bands and soloists to showcase some of the amazing singers we have here at our school. Highlights from the evening included the solo, duet and trio performances from our fantastic music scholars who stunned the audience with their close harmonies and expressive stage presence. Humphry Davy School put together another fantastic and varied evening of music and we look forward to working with the team at Songfest again next year. A huge 'well done' to all our wonderful musicians for getting involved!
Humphry Davy School
5 Apr 2022
During the Spring term our young people are busy preparing for Music For Youth, the annual celebration of youth music across the UK. Each region holds its own local festival and a handful of acts from each festival is chosen to perform at the regional competition. With so much going on this term. Humphry Davy School were unfortunately unable to attend in person due to overlapping events. Of course, we didn't let that stop us from getting involved, with this year's entrants taking part via video submission! 'New Notes Jazz Band' and 'Betty Boop's Jungle Boogie' spent an afternoon videoing and recording a set of material to put before the panel and a live audience at Falmouth University. Those in attendance were blown away by the professionalism and musicianship on display and we look forward to receiving feedback in the coming weeks.
Humphry Davy School
4 Apr 2022
We would like to wish all our Year 10 students the best of luck this week in their work experience placements. We are so proud and excited that after two years we have been able to work with local employers to run our work experience week again this year! We can't wait to hear all about it!
Humphry Davy School
1 Apr 2022
The first ever Esports tournament has now concluded here at Humphry Davy School. A tense final was played out by Riley (Year 9) and Dylan (Year 11). The score finished 3-1 to Dylan, who came from behind to claim victory. The game was played in great spirit between both players, which brought to an end a great experience for many of our students. We would like to wish Dylan the best of luck as he represents our school at the national Fifa 22 schools championship. The event is being held in May at West Bromwich Albion Football Club, we will keep you updated with Dylan's progress.
Humphry Davy School
30 Mar 2022
Have you always dreamed of being a doctor? Do you have a keen interest in dentistry? Applying to study these courses at University is likely to be the most competitive process you will ever have to go through. In this session, delivered by experienced staff from Cornwall School of Maths and Science, you will find out about the intensive application process and the steps you can take now to improve your chances of success. If you are in Year 10 or 11 and want to be a doctor or a dentist you really cannot afford to miss this informative event. Visit www.csms.co.uk/outreach-events/ to book your slot today!
Humphry Davy School
29 Mar 2022
This week's final Hair and Beauty session at Penwith College saw students learning about massage techniques such as 'effleurage'. This was another great session where our students continued to broaden their understanding of working within the Hair and Beauty industry (even if most enjoyed being the 'client' just as much as learning!) - a truly relaxing end to our series of taster sessions! We have really enjoyed finding out more about Hair and Beauty at Penwith College, and it has given our students much food for thought as they start to consider what they would like to do when they leave school!
Humphry Davy School
28 Mar 2022
Our 12 Music Scholars were in Cardiff last week, spending a day at the Royal Welsh College of Music and Drama, where they immersed themselves into the life of a world leading conservatoire; taking part in workshops with the Head of Jazz; and enjoying the opportunity to meet students (including former Humphry Davy students) to get a feel for life as a professional musician! This after stopping off to experience the spectacular arena gig by world famous Cory Wong at the O2 Academy, where apparently the scholars were blown away by the musicianship!
Humphry Davy School
25 Mar 2022
Year 9 art students visited the Tate St Ives and the Barbara Hepworth Museum and Sculpture garden this week. This was a fantastic opportunity for our students to spend the day studying professional art displays, and what a spectacular day they had for it too! The students are currently working on a project focused on natural forms, so visiting these two exhibitions was the perfect chance to get inspired. As the sun shone down, our students made their way around the displays taking photographs, making notes and drawing sketches of their favourite pieces. Students were asked to consider user interaction, how the artwork made them feel, as well as exploring the context of the artwork and the emotional connection the artist had with their work. The Tate St Ives is currently closed to the public for building work, so our students had the whole exhibition to themselves…a truly VIP experience! Everyone had a wonderful morning, and on the coach ride home, couldn't stop talking about what they had seen. This visit has really helped develop our student's understanding of how artist research can inspire their own creations and we look forward to seeing how their own creative work progresses.
Contact Us
Headteacher William Marshall
Humphry Davy School, Coombe Road, Penzance,
Cornwall, TR18 2TG
Cookie Policy:
We use cookies on this site to improve your user experience.
More Information