Our School House System
At Humphry Davy School we care about the individual child. Students thrive best in an atmosphere where they feel valued and secure. The needs of our students as individuals and their physical, moral, cognitive, social and emotional development form the basis of the school's pastoral structure.
At the centre of our pastoral structure is our House System. We have 6 amazing houses. Each House is led by a house leader, supported by a team of house tutors/mentors.
Each tutor/mentor is responsible for a small group of students and therefore able to build stronger relationships with each individual based on detailed and personal understanding.
On entry into the school each student is allocated to a house and a tutor/mentor group.
The tutor/mentor meets the group daily sessions and assemblies. The tutor/mentor not only has responsibility for the students' welfare on a day to day basis but plays an important part in raising achievement through target setting and supporting students academically.
All mentors work closely with a house leader and members of the leadership team who are involved in individual target setting and student tracking.
Meet our House Leaders!
Kemeneth!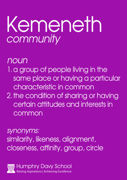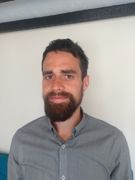 The House Leader for Kemeneth house this year is Mr Leonard.
"I'm originally from Essex, but I've lived in Bristol and Falmouth before coming to Penzance. I've previously worked as a fish and chip fryer, tour guide, labourer and art gallery volunteer - before becoming an English teacher. I've travelled the world a couple of times, and once presented a ceremonial drink to the president of Fiji (and messed up the lines quite badly). I genuinely love reading, I watch too many films, I enjoy wild swimming and I could probably eat my body weight in chips!"
Sowena!

The House Leader for Sowena house this year is Miss Pollock.
"Hi! I'm Miss Pollock and I am the Head of Sowena House. As well as being a house leader, I am also an English teacher and love to be creative! In my spare time I like to go on walks with my dogs, Remus and Baxter (hopefully the Harry Potter fans will recognise the name!). I love working at HDS and cannot wait to support you in your time here!"

Aweni!
The House Leader for Aweni house is Mr Brown.
"I have worked for HDS for a total of 15 years now! At weekends and evenings you will often find me on Sennen beach where I have been a Surf Coach for the last decade! Before starting at HDS I worked as a Youth Worker with the Hayle Youth Project. I am happily married and have two lovely children. I love to surf, spend time with my family, fish, basically anything involving the sea you can count me in! My dislikes include walnuts and jelly babies!"
Tevi!
The House Leader for Tevi house is Mrs Sigrist Smith.
"I am Mrs Sigrist Smith and I am house lead for Tevi house as well as a Textiles and Catering teacher at Humphry Davy School. I love walking with my scruffy poodle who lives up to her name 'Tatty'. I have dual nationality and am half Swiss as well as Cornish! I love love love 'The Great British Sewing Bee' and am found often in my own little studio at home making clothing for myself, or toys for my little one, whilst eating a nice slice of cake! I am super proud to be house lead of Tevi house. Tevi is Cornish for grow; I think 'grow' is the best starting point for us all. To grow is to develop, to shoot up, to spring up but more importantly to do something over time; to raise, to rear, to nurture, to emerge to bloom to bud. We are all growing and blooming and with these accolades we strive to succeed and learn along the way. We are the colour orange for our house which also has excellent merit as it indicates joy, sunshine, happiness as well as a sense of general wellness and emotional wellbeing. 'It takes courage to grow up and be who you really are' E.E Cummings."
Medra!
The House Leader for Medra house is Mrs Thurston.
"I'm Mrs Thurston and I'm House Leader for Medra House and Head of Lower School (which includes years seven, eight and nine). I have been teaching at Humphry Davy School for eleven years and I love that the community feeling that I felt when I came for an interview at the school all that time ago, is still the same feeling I get now when I come to work every day!
Medra means aspire, which to me is all about belief in yourself. As Theodore Roosevelt, 26th President of the USA, once said 'Believe in yourself and you're halfway there!'. It is only with this belief in ourselves, and our own abilities, that we can begin to accept who we are and challenge ourselves to be better!"
Longya!
The House Leader for Longya house is Mr Ball.
"I am Mr Ball and the proud House Leader for Longya. I'm a PE teacher here at HDS, as well as Head of Upper School (Years 10 and 11), and have been at the school for 16 years. I enjoy most sports but have a particular passion for rugby and love spending time on the beach with my family during the summer. I also enjoy listening to podcasts, making sure I keep fit by taking part in regular exercise and eating chocolate! Come and find me and ask me anything about the school, you are going to really enjoy your time here."
Connect with us
Humphry Davy School
19 Jan 2022
Huge congratulations to Roisin and Jenna for their amazing success in cross country! Both girls represented HDS at Truro School this weekend competing in the Cornwall Schools cross country competition. They absolutely outdid themselves giving 100% throughout the day. The girls have been training hard, meeting up on Saturdays for sand dune running in preparation for their races to ensure they are race fit! Roisin has been selected for the cross country county squad and will be competing in Loughborough, Kent and London this year. Well done to both of you on your fantastic achievements, keep up the brilliant work, we look forward to hearing of your future successes and wish you the best of luck in your next races!
Humphry Davy School
7 Jan 2022
As a Co-Operative school we are pleased to announce our involvement with the Co-Op reward scheme. For every £1 Co-Op members spend on selected Co-Op branded products and services 2p will go into their membership account and the same amount will support community organisations like Humphry Davy School. If you are a member of the Co-Op please think of us when it comes to donating your points. All donations will support the on-going development of our allotment and any support it always welcome. For more information please visit: https://membership.coop.co.uk/causes/61001 Thank you!
Humphry Davy School
5 Jan 2022
Truro and Penwith College Event: A message for all Year 11 students who planned to attended the Truro and Penwith college IB Information Evening on Thursday 13 January. Unfortunately the event has had to be cancelled but they hope to run a live online Q&A event instead. We will post details to update you all as soon as we have them.
Humphry Davy School
20 Dec 2021
Here are just some of the AMAZING performances from our annual Christmas Concert last week! Well done to all involved. Check back later for the full playlist. Happy Christmas everyone!
Humphry Davy School
16 Dec 2021
We have had such a festive week here at HDS! Christmas lunch on Tuesday, our Christmas Music Concert yesterday, Christmas activities in mentor time and don't forget Christmas jumper day tomorrow! Getting into the Christmas spirit has been a wonderful way to bring this school term to a close. Hearing the magical music coming from the school gym yesterday was enough to get anyone into a Christmassy frame of mind and it was great to hear our students' polished performances after all their hard work in practice. A big 'Thank you' to all that have been involved in creating a special week for our students. Keep your eyes peeled for the videos from yesterday's music performance which we can't wait to share with you very soon!
Humphry Davy School
15 Dec 2021
Science Ambassadors will be attending the Humphry Davy Lantern Parade this Saturday in Penzance. We were so pleased to hear that this is still able to run this year and are excited to see what has been created. Be sure to come along and join in with the festivities.
Humphry Davy School
14 Dec 2021
We want to say a huge 'Congratulations' to student Kiera who has been having a very busy month indeed. Kiera has spent her spare time designing and creating necklaces to sell and with her profits has bought chocolate selection boxes which she is donating to those in need. A tremendous act of kindness and one that will mean so much to the people who receive them. Your selflessness will make someone's Christmas this year and you should be immensely proud. 'Well done' from everyone here at HDS.
Humphry Davy School
10 Dec 2021
Careers Education is an important part of what we do at HDS. We believe that by sharing information about different career pathways, we can increase awareness of the opportunities available to our young people and raise aspirations. This week's Hot Job is a Fashion Designer!
Humphry Davy School
8 Dec 2021
HDS is taking part in the 'Penzance Christmas Window' competition again this year! Our students spent a morning creating beautiful stars for this year's theme 'light it up'. Be sure to visit our window (former Whirlwind Sports shop) in the Wharfside, Penzance, and vote for our school! https://lovepenzance.co.uk/christmas-window-comp/
Humphry Davy School
30 Nov 2021
Careers Education is an important part of what we do at HDS. We believe that by sharing information about different career pathways, we can increase awareness of the opportunities available to our young people and raise aspirations. This week's Hot Job is a Retail Buyer!
Humphry Davy School
24 Nov 2021
A huge 'Well Done' to our Rugby and Netball teams who played against Hayle Academy last week. The opposing teams were great competition and everyone had a great time getting truly stuck in. All students showed determination, changing up their usual routines to further enhance their understanding of different player positions. The students were a credit to our school and showed real sportsmanship. Nice work everyone! Keep it up!
Humphry Davy School
24 Nov 2021
Careers Education is an important part of what we do at HDS. We believe that by sharing information about different career pathways, we can increase awareness of the opportunities available to our young people and raise aspirations. This week's Hot Job is a Physiotherapist!
Humphry Davy School
23 Nov 2021
Mrs Hall and Mr McHugh's chemistry class really used their imaginations whilst learning about the history of the atom this week! Having conducted some initial research they created presentations to teach each other about how ideas about the structure of the atom have changed over time as new evidence becomes available, including some ingenious ideas such as reproducing Rutherford's Alpha Particle experiment with marbles and mesh, 3d software to model the planetary model (in which students were invited to spot the deliberate mistake!) and decorated cookies illustrating the plum pudding model! The use of an avocado to model the nuclear model was particularly ingenious! Congratulations Year 9 set 2 for some great teamwork!
Humphry Davy School
19 Nov 2021
Careers Education is an important part of what we do at HDS. We believe that by sharing information about different career pathways, we can increase awareness of the opportunities available to our young people and raise aspirations. This week's Hot Job is a Digital Marketing Officer!
Humphry Davy School
18 Nov 2021
Cornish Pirates Rugby player, Nicolas De Battista, visited our Year 9 Spanish class this term. He spoke to us about his life in Argentina before moving to the UK to play rugby. The students had the opportunity to ask him lots of questions about his exciting life. He has been lucky to travel to many different countries with his rugby career and it was inspiring for the students to see how much learning different languages has helped him pursue his dreams! Thank you for visiting us, we look forward to welcoming you back in the future!
Humphry Davy School
16 Nov 2021
The HDS community came together yesterday to wear Odd Socks to mark the start of Anti-Bullying Week. Odd Socks Day is designed to be fun! It's an opportunity to encourage everyone to express themselves and celebrate individuality and what makes us all unique! Odd Socks day is to help raise awareness of bullying and standing together - in a fun and unified way. This year over 5 million children, 1,000s of parents, 100s of workplaces and lots of celebrities and influencers got involved. From Ant and Dec, Emma Willis, Craig David, Sir Mo Farah, Annamarie to Humphry Davy School! Well done everyone! #OddSocksDay #AntiBullyingWeek #onekindword
Humphry Davy School
15 Nov 2021
Staff and senior students from Humphry Davy School gathered on Sunday 14th November in remembrance of all those who gave their lives at war. Rain and Lily were superb ambassadors for the school; supporting the parade through the town and laying a wreath on behalf of our school community. There were also many of our students brilliantly representing their various uniformed organisations or playing superbly in the band. It was a poignant remembrance parade and service, much of which was delivered in the Cornish Language. We will remember them.
Humphry Davy School
11 Nov 2021
Our school community fell silent at 11am this morning to remember those who have lost their lives in conflict, those who have served and their families. The two minute silence was impeccably observed across the school, and with the Last Post echoing around our school grounds for all to hear, we remembered.
Contact Us
Headteacher William Marshall
Humphry Davy School, Coombe Road, Penzance,
Cornwall, TR18 2TG
Cookie Policy:
We use cookies on this site to improve your user experience.
More Information