Our School House System
At Humphry Davy School we care about the individual child. Students thrive best in an atmosphere where they feel valued and secure. The needs of our students as individuals and their physical, moral, cognitive, social and emotional development form the basis of the school's pastoral structure.
At the centre of our pastoral structure is our House System. We have 6 amazing houses. Each House is led by a house leader, supported by a team of house tutors/mentors.
Each tutor/mentor is responsible for a small group of students and therefore able to build stronger relationships with each individual based on detailed and personal understanding.
On entry into the school each student is allocated to a house and a tutor/mentor group.
The tutor/mentor meets the group daily sessions and assemblies. The tutor/mentor not only has responsibility for the students' welfare on a day to day basis but plays an important part in raising achievement through target setting and supporting students academically.
All mentors work closely with a house leader and members of the leadership team who are involved in individual target setting and student tracking.
Meet our House Leaders!
Kemeneth!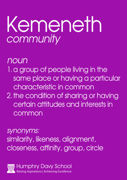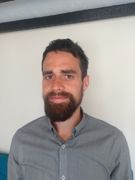 The House Leader for Kemeneth house this year is Mr Leonard.
"I'm originally from Essex, but I've lived in Bristol and Falmouth before coming to Penzance. I've previously worked as a fish and chip fryer, tour guide, labourer and art gallery volunteer - before becoming an English teacher. I've travelled the world a couple of times, and once presented a ceremonial drink to the president of Fiji (and messed up the lines quite badly). I genuinely love reading, I watch too many films, I enjoy wild swimming and I could probably eat my body weight in chips!"
Sowena!

The House Leader for Sowena house this year is Miss Pollock.
"Hi! I'm Miss Pollock and I am the Head of Sowena House. As well as being a house leader, I am also an English teacher and love to be creative! In my spare time I like to go on walks with my dogs, Remus and Baxter (hopefully the Harry Potter fans will recognise the name!). I love working at HDS and cannot wait to support you in your time here!"

Aweni!
The House Leader for Aweni house is Mr Brown.
"I have worked for HDS for a total of 15 years now! At weekends and evenings you will often find me on Sennen beach where I have been a Surf Coach for the last decade! Before starting at HDS I worked as a Youth Worker with the Hayle Youth Project. I am happily married and have two lovely children. I love to surf, spend time with my family, fish, basically anything involving the sea you can count me in! My dislikes include walnuts and jelly babies!"
Tevi!
The House Leader for Tevi house is Mrs Sigrist Smith.
"I am Mrs Sigrist Smith and I am house lead for Tevi house as well as a Textiles and Catering teacher at Humphry Davy School. I love walking with my scruffy poodle who lives up to her name 'Tatty'. I have dual nationality and am half Swiss as well as Cornish! I love love love 'The Great British Sewing Bee' and am found often in my own little studio at home making clothing for myself, or toys for my little one, whilst eating a nice slice of cake! I am super proud to be house lead of Tevi house. Tevi is Cornish for grow; I think 'grow' is the best starting point for us all. To grow is to develop, to shoot up, to spring up but more importantly to do something over time; to raise, to rear, to nurture, to emerge to bloom to bud. We are all growing and blooming and with these accolades we strive to succeed and learn along the way. We are the colour orange for our house which also has excellent merit as it indicates joy, sunshine, happiness as well as a sense of general wellness and emotional wellbeing. 'It takes courage to grow up and be who you really are' E.E Cummings."
Medra!
The House Leader for Medra house is Mrs Thurston.
"I'm Mrs Thurston and I'm House Leader for Medra House and Head of Lower School (which includes years seven, eight and nine). I have been teaching at Humphry Davy School for eleven years and I love that the community feeling that I felt when I came for an interview at the school all that time ago, is still the same feeling I get now when I come to work every day!
Medra means aspire, which to me is all about belief in yourself. As Theodore Roosevelt, 26th President of the USA, once said 'Believe in yourself and you're halfway there!'. It is only with this belief in ourselves, and our own abilities, that we can begin to accept who we are and challenge ourselves to be better!"
Longya!
The House Leader for Longya house is Mr Ball.
"I am Mr Ball and the proud House Leader for Longya. I'm a PE teacher here at HDS, as well as Head of Upper School (Years 10 and 11), and have been at the school for 16 years. I enjoy most sports but have a particular passion for rugby and love spending time on the beach with my family during the summer. I also enjoy listening to podcasts, making sure I keep fit by taking part in regular exercise and eating chocolate! Come and find me and ask me anything about the school, you are going to really enjoy your time here."
Connect with us
Humphry Davy School
4 Jan 2021
Head over to https://www.humphry-davy.cornwall.sch.uk/3489/spring-term-arrangements-2021 for details of our response to the Prime Minister's announcement this evening. In short, our arrangements for Tuesday 5th January go ahead as planned. Staff will be in school to support those students already confirmed to attend in advance, and 'Remote Learning' activities are posted and available via Satchel:One. Our sincere apologies - a ParentMail was sent to all registered parents and carers earlier this evening but we now understand this was delayed by schools across the country overloading the system to update parents.
Humphry Davy School
17 Dec 2020
Merry Christmas everyone! We hope you have a wonderful break and we look forward to seeing all your smiling faces on Monday 4th January! Stay safe.
Humphry Davy School
17 Dec 2020
HDS is well known for always putting on fantastic festive performances for friends and family. This year, being unable to perform in the usual way, our musical students were still keen to spread some festive cheer to everyone this Christmas. With their fantastic 'lockdown' videos in mind they knew that, with the help of their music teachers, they would be able to put together a selection of musical ensembles to get everyone into the Christmas spirit. How amazing are these two videos from our brilliant music scholars and the Band of Fiasco?! Well done everyone, you have blown us away with your talents yet again.
Humphry Davy School
17 Dec 2020
Our music scholars cover 'In the Bleak Midwinter'.
Humphry Davy School
17 Dec 2020
On Friday 11th December, Year 7 students gathered on our astro pitch to complete a 2.5K run to show their support for this year's 'Santas on the Run – Goes Freestyle!' in order to raise money for Children's Hospice South West (CHSW). The charity's festive fundraiser usually sees hundreds of Santas running around Eden to raise vital funds. This year, due to the pandemic, the event took place virtually. Over the weekend, supporters were encouraged to choose their own route, distance and festive attire making 'Santas on the Run - Goes Freestyle' something everyone could get involved in. The HDS community raised an incredible £1180 through the donations and sponsorship money collected! Thank you everyone for your generosity, the hospice holds a special place in the hearts of all HDS staff and it was brilliant to see how many of our students got involved.
Humphry Davy School
9 Dec 2020
Our amazing music students have been working very hard all day creating their very own music video! We can't wait to hear the final outcome. Keep your eyes peeled for this fabulous festive treat!
Humphry Davy School
4 Dec 2020
We're getting festive! HDS is currently taking part in the Penzance Christmas Window Competition. This year's theme is 'Christmas Songs' so, during tutor time last Friday, our Year 7 students were challenged with producing a drawing of one of the 'Twelve Days of Christmas'. The drawings were then transformed into festive decorations which have been creatively displayed for all to see! Our window is in Steckfensters (on Chapel Street) and is certainly shining bright. Well done Year 7 for your fantastic creations, you have such an imagination and we loved working with drawings! Don't forget to vote for our school to win by scanning the QR code or visiting https://lovepenzance.co.uk/christmas-window-comp/
Humphry Davy School
3 Dec 2020
Calling all Year 7 students! Join the Winter Mini Challenge and become a reading hero! The Mini Challenge is starting and we want you to get involved. All you have to do to complete the Winter Mini Challenge is read at least three books. You can choose any books you like then rate and review your books on the website while the Challenge is on and you'll unlock a limited-edition virtual badge for your profile along with a special certificate. You can also receive rewards for completing the challenge from Ms Atkins in the library by simply showing your certificate or virtual badge! The challenge ends on Friday 15th January 2021. Let's get reading!
Humphry Davy School
3 Dec 2020
This month is #DoGoodDecember! To finish 2020 in a positive way why not follow this kindness calendar and spread some joy this month.
Humphry Davy School
1 Dec 2020
It's beginning to look a lot like Christmas!
Humphry Davy School
19 Nov 2020
This year, local colleges will be hosting 'virtual' Open Days for prospective students to get a flavour of their facilities. We encourage all our Year 10 students to visit each college's website to find out more information. If you would like to speak to someone about how to decide which college is best for you, please contact Mrs Richards, our careers advisor, for a chat.
Humphry Davy School
12 Nov 2020
We are currently consulting on our Admissions Policy for 2022 – 2023. We believe it is important to seek the views of our stakeholders when reviewing key policies and documents. To view this policy, please visit our website. We would welcome your feedback. https://www.humphry-davy.cornwall.sch.uk/3437/policy-consultations
Humphry Davy School
11 Nov 2020
On Friday we welcome students to wear non-uniform with donations of £1 going towards the BBC Children in Need appeal. Students will also be able to take part in exciting fundraising activities by donating their Humphry Davy Dollars to the cause. The school will then convert all the donated dollars into pounds, and make a collective donation to the appeal.
Humphry Davy School
11 Nov 2020
Following a short service in the School Gallery, a wreath was laid by a small group of students at our war memorials. Then, with the Last Post (played by three of our music students) echoing around our school grounds for all to hear, we remembered. We remembered then and reflected on now; remembering the service and sacrifice made by so many peoples, communities and nations 75 years ago, and reflecting on the service and sacrifice of so many today.
Humphry Davy School
6 Nov 2020
Calling all aspiring medical students! 'Health Careers Live' will be running a free online national health careers conference tomorrow! (Saturday 7th November) There will be access to a wide range of live talks from different healthcare professionals, workshops, interactive clinical skills sessions, and sessions on how to build a portfolio. It would be a really useful event for those looking to progress into a healthcare career. Students can register by accessing their website: https://healthcareers.live/
Humphry Davy School
19 Oct 2020
Congratulations to Thea on being a winner of the The Bright Ideas Challenge 2020! The challenge was to come up with a 'Bright Idea' to solve an energy problem faced by a city in 2050. Thea's entry was both innovative and exciting...we are very proud of you Thea! As the regional winner, Thea has won £2,500 to boost our already extensive STEM offer here at HDS. In addition, Thea has received an amazing STEM goodie bag packed with cool STEM kit and subscriptions. Well done!
Humphry Davy School
14 Oct 2020
We loved welcoming you all!
Humphry Davy School
14 Oct 2020
Here @ HDS we are very excited to read about the launch of Cornwall Council's Manifesto which sets out how it wants to make Cornwall the UK's leading rural creative economy; shining a light on the creative economies of our rural region. As a community school in the heart of Penzance, we are proud to be involved in many community festivals and activities throughout the year, with the highlight of the year being 'Golowan'! The Manifesto, which sets out plans to provide more support for businesses in the creative and digital industries, also highlights a Creative Cluster planned in Penzance, Truro and Liskeard. We watch with interest as the plans go before the Cornwall Council's economic growth and development overview and scrutiny committee when it meets on Tuesday (Oct13), and we look forward to the boost this may provide for our local economy, as well as the opportunities for us to expand our 'creativity in the community' over the coming years!
Contact Us
Headteacher William Marshall
Humphry Davy School, Coombe Road, Penzance,
Cornwall, TR18 2TG
Cookie Notice: We use cookies on this site to improve your user experience.