Visitor Information and Contacting the School
Effective communication between home, school and our stakeholders is essential to support the young people in our care.
With the risks arising from Covid-19 we ask that wherever possible all communication is by email or telephone call. If preferable we are happy to organise and host a video conference call using our Microsoft Teams platform.
Where there is no other option but to visit the school site we request that parents and visitors make an appointment prior to entering the school site using the number above.
Please note that all visitors to the school site will be required to wear face masks/coverings, sanitise hands upon arrival in the reception foyer, and sign in at reception.
We thank you for your compliance and understanding.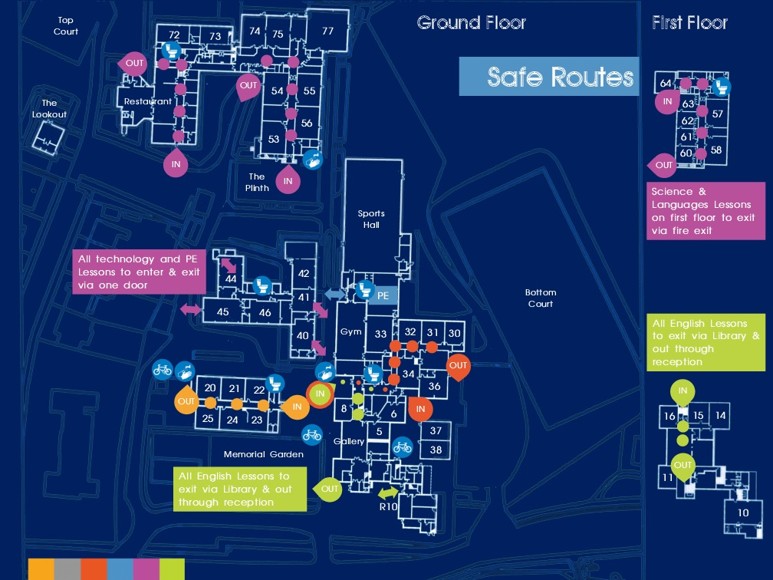 Connect with us
Humphry Davy School
4 Mar 2021
Happy World Book Day everyone! Whilst our students and staff have been busy getting dressed up as their favourite literary hero (photos to follow), one of their furry friends has beaten them to it, dressing up as a very convincing Harry Potter!
Humphry Davy School
4 Mar 2021
Massive congratulations to our very own drumming superstar, Micho, who has achieved outstanding marks in his Grade 8 Drum exam! Your talents never cease to amaze us and you should be very proud!
Humphry Davy School
4 Mar 2021
It's National Careers Week! This week, UCAS is hosting a live and interactive 'Careers Hour' everyday between 14:00 - 15:00 (UK time). Find out more here https://bit.ly/37K60GP
Humphry Davy School
3 Mar 2021
We will be celebrating World Book Day on Thursday! Although this year may look a little different, there are still lots of fun activities for our students to get involved in. We're encouraging everyone to dress up as their favourite 'literary hero'. To send us photos of your fantastic creations and be in with a chance of winning a prize, please visit our website for further details: https://www.humphry-davy.cornwall.sch.uk/2331/news/post/758/world-book-day-thursday-4th-march
Humphry Davy School
2 Mar 2021
As part of National Careers Week the army are holding a live webinar on the 5th March from 11.30. This is a fantastic opportunity to find out more about opportunities within the army, including the qualifications that you can study with them. Suitable for anyone from Y7-11 as it is never too soon to start to think about what jobs and job sectors you are interested in for the future! https://events-emea3.adobeconnect.com/content/connect/c1/3956621110/en/events/event/shared/default_template_simple/event_registration.html?sco-id=4729432670&_charset_=utf-8 Please remember that as this is a live event you should not share any personal information online, including your name or any other identifying features - stay safe online!
Humphry Davy School
2 Mar 2021
'Well Done' to Molly and Sebastian who were the winners of our 'HDS Star of the Week' last week! Congratulations to both of you, your hard work has been recognised by your teachers. Keep up the fantastic effort!
Humphry Davy School
1 Mar 2021
This week is National Careers week. Usually, at this time of year, we are busy contacting hundreds of employers and inviting them to showcase their sectors at our annual Careers Fair. Whilst we are unable to run this spectacular event this year, we are delighted to bring you a 'virtual' event hosted by nationalcareersweek.com. Many different career sectors will be represented and we encourage all of our students and their families to get involved! Take a look, you won't be disappointed! https://nationalcareersweek.com
Humphry Davy School
1 Mar 2021
Students and staff at HDS have been getting creative again with another remotely rehearsed and recorded lockdown music project. Spring is just around the corner so what better song to sing in the season than The Fab Four's 1969 track 'Here Comes the Sun'. It is another spectacular ensemble and it certainly put a smile on all of our faces. We hope you enjoy our rendition of this feel good track!
Humphry Davy School
25 Feb 2021
Calling all Year 8 students, parents and carers! Join us for our online options event at 6pm tonight (Thursday 25th February) by clicking here https://bit.ly/3jzG0Tl (full joining instructions are in the letter that was posted home with the options booklet). Subject spotlights are also available via the options assignment in Satchel One and you are welcome to contact us at any time via options@humphry-davy.cornwall.sch.uk. We hope to see you at the options event!
Humphry Davy School
15 Feb 2021
Congratulations to Aoife and Jake who were nominated for HDS 'Star of the Week' on Friday! You have both been recognised by your teachers for the fantastic work you have been producing during your remote learning studies. Well done!
Humphry Davy School
12 Feb 2021
Our top tips to help you with accessibility
Humphry Davy School
10 Feb 2021
We were treated to some magical flurries of snow yesterday in Penzance and our Year 11 bubble were excited to get out and breath in some of the crisp air during their break. They had great fun 'building' 'David The Snowman'… this tiny creation certainly made us smile! Top effort!
Humphry Davy School
10 Feb 2021
Our top tips to help you with MS Teams
Humphry Davy School
8 Feb 2021
This week is 'National Apprenticeship Week'; a week in celebration of how apprenticeships are a great pathway to career success and a good alternative to full time College and University. Apprenticeships provide a fantastic opportunity to work with local employers to gain real and valuable work experience along with the theory to develop employability skills and prospects for the future. We are running a range of different careers events this week – to get involved, head over to our website now to see what is happening! https://www.humphry-davy.cornwall.sch.uk/2331/news/post/756/national-apprenticeship-week
Humphry Davy School
8 Feb 2021
Our top tips to help you with Satchel:One
Humphry Davy School
5 Feb 2021
A selection of some of the super 'Remote Learning' work submitted by HDS students this week.
Humphry Davy School
4 Feb 2021
Our top tips to help you with Remote Learning
Contact Us
Headteacher William Marshall
Humphry Davy School, Coombe Road, Penzance,
Cornwall, TR18 2TG
Cookie Notice: We use cookies on this site to improve your user experience.