Visitor Information and Contacting the School
Effective communication between home, school and our stakeholders is essential to support the young people in our care.
With the risks arising from Covid-19 we ask that wherever possible all communication is by email or telephone call. If preferable we are happy to organise and host a video conference call using our Microsoft Teams platform.
Where there is no other option but to visit the school site we request that parents and visitors make an appointment prior to entering the school site using the number above.
Please note that all visitors to the school site will be required to wear face masks/coverings, sanitise hands upon arrival in the reception foyer, and sign in at reception.
We thank you for your compliance and understanding.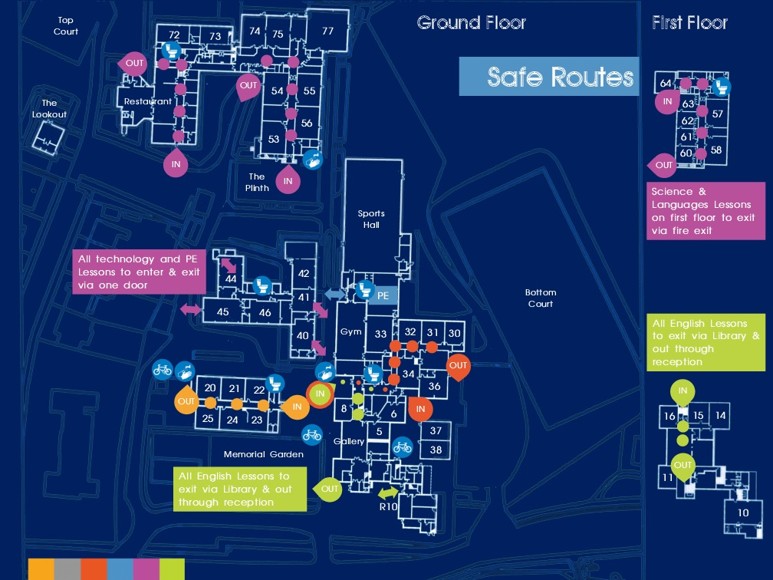 Connect with us
Humphry Davy School
19 Nov 2020
This year, local colleges will be hosting 'virtual' Open Days for prospective students to get a flavour of their facilities. We encourage all our Year 10 students to visit each college's website to find out more information. If you would like to speak to someone about how to decide which college is best for you, please contact Mrs Richards, our careers advisor, for a chat.
Humphry Davy School
12 Nov 2020
We are currently consulting on our Admissions Policy for 2022 – 2023. We believe it is important to seek the views of our stakeholders when reviewing key policies and documents. To view this policy, please visit our website. We would welcome your feedback. https://www.humphry-davy.cornwall.sch.uk/3437/policy-consultations
Humphry Davy School
11 Nov 2020
On Friday we welcome students to wear non-uniform with donations of £1 going towards the BBC Children in Need appeal. Students will also be able to take part in exciting fundraising activities by donating their Humphry Davy Dollars to the cause. The school will then convert all the donated dollars into pounds, and make a collective donation to the appeal.
Humphry Davy School
11 Nov 2020
Following a short service in the School Gallery, a wreath was laid by a small group of students at our war memorials. Then, with the Last Post (played by three of our music students) echoing around our school grounds for all to hear, we remembered. We remembered then and reflected on now; remembering the service and sacrifice made by so many peoples, communities and nations 75 years ago, and reflecting on the service and sacrifice of so many today.
Humphry Davy School
6 Nov 2020
Calling all aspiring medical students! 'Health Careers Live' will be running a free online national health careers conference tomorrow! (Saturday 7th November) There will be access to a wide range of live talks from different healthcare professionals, workshops, interactive clinical skills sessions, and sessions on how to build a portfolio. It would be a really useful event for those looking to progress into a healthcare career. Students can register by accessing their website: https://healthcareers.live/
Humphry Davy School
19 Oct 2020
Congratulations to Thea on being a winner of the The Bright Ideas Challenge 2020! The challenge was to come up with a 'Bright Idea' to solve an energy problem faced by a city in 2050. Thea's entry was both innovative and exciting...we are very proud of you Thea! As the regional winner, Thea has won £2,500 to boost our already extensive STEM offer here at HDS. In addition, Thea has received an amazing STEM goodie bag packed with cool STEM kit and subscriptions. Well done!
Humphry Davy School
14 Oct 2020
We loved welcoming you all!
Humphry Davy School
14 Oct 2020
Here @ HDS we are very excited to read about the launch of Cornwall Council's Manifesto which sets out how it wants to make Cornwall the UK's leading rural creative economy; shining a light on the creative economies of our rural region. As a community school in the heart of Penzance, we are proud to be involved in many community festivals and activities throughout the year, with the highlight of the year being 'Golowan'! The Manifesto, which sets out plans to provide more support for businesses in the creative and digital industries, also highlights a Creative Cluster planned in Penzance, Truro and Liskeard. We watch with interest as the plans go before the Cornwall Council's economic growth and development overview and scrutiny committee when it meets on Tuesday (Oct13), and we look forward to the boost this may provide for our local economy, as well as the opportunities for us to expand our 'creativity in the community' over the coming years!
Humphry Davy School
13 Oct 2020
This week our career of the week is:- A SOLICITOR!
Humphry Davy School
2 Oct 2020
It has been our absolute pleasure to host all the fantastic Year 6 pupils from our local feeder schools over the past two days. Such amazing talents on display! We look forward to welcoming you back very soon. Remember, 'The more you put in to HDS, the more you will get out of the opportunities!' Check out our 'Enrichment' video to see what you could be doing when you join Humphry Davy School.
Humphry Davy School
2 Oct 2020
This week our career of the week is:- A MAKE-UP ARTIST!
Humphry Davy School
25 Sep 2020
This week our career of the week is:- A WEB DEVELOPER!
Humphry Davy School
15 Sep 2020
Here at HDS we are dedicated to providing students and parents/carers with high level Careers Information. This includes sharing labour market information which is essential in the ever-changing job market we have today. This week our career of the week is:- A VET! For more information or guidance please contact our careers adviser Mrs Richards on hrichards@humphry-davy.cornwall.sch.uk
Humphry Davy School
11 Sep 2020
What a brilliant first week back we have had at HDS, it has been great having the usual buzz around the site again. Thank you to all students and staff for making this week so successful, it has certainly been a different start to the academic year but in true HDS fashion everyone has taken it within their stride. Welcome back everyone!
Humphry Davy School
7 Sep 2020
We are looking forward to welcoming Year 5 and 6 pupils and their families to our Open Days this year. We will be operating a booking system for tours of our school in order to operate in a Covid Secure manner. Tours will be with a senior member of staff, and will be in groups of no more than 10 people. To book your tour visit www.humphry-davy.cornwall.sch.uk to arrange a convenient time.
Humphry Davy School
23 Jul 2020
Year 11, Class of 2020. You made such an impact on us all and inspired us with your resilience, drive and determination. A hugely memorable year group, whose year was brought to an abrupt end with the arrival of Covid-19 and lockdown. We want to end this year with a video to capture some heartfelt message from the staff against the backdrop of the school you have spent the last 5 years.
Humphry Davy School
16 Jul 2020
Our music team have been working hard again creating another fantastic virtual ensemble! In support of the Cornwall Music Service Trust, our extremely talented musical students (both past and present) have put together this brilliant musical collaboration for us all to enjoy. Another polished piece from our 'New Notes Jazz Band' who continue to inspire us with their talents. This year has certainly been one that we will all remember and what better way to bring this school year to a close than to spread the joy of music. Well done everyone, another incredible production; produced right from your very own homes!
Contact Us
Headteacher William Marshall
Humphry Davy School, Coombe Road, Penzance,
Cornwall, TR18 2TG
Cookie Notice: We use cookies on this site to improve your user experience.