Transition
Thank you for choosing Humphry Davy School!

We are delighted to welcome you and your child to Year 7. On behalf of all our staff we would like to say a big welcome to our wonderful school community and also provide you with some information to help with any thoughts you might be having about secondary school.
The first day of term for Year 7 2020 will be Monday 7th September. Further details will be sent to you over the next week.
If you have any questions or queries, please email our Transition Lead, Tamsin Gittins
tgittins@humphry-davy.cornwall.sch.uk - 01736 363559
or contact the school
enquiries@humphry-davy.cornwall.sch.uk - 01736 363559
We look forward to seeing you in September!

---
We have six amazing school houses!
Which one will you be in?
Click on each of the images below to find out more!

Kemeneth!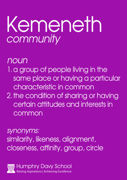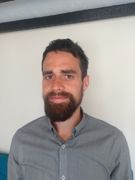 The House Leader for Kemeneth house this year is Mr Leonard.
"I'm originally from Essex, but I've lived in Bristol and Falmouth before coming to Penzance. I've previously worked as a fish and chip fryer, tour guide, labourer and art gallery volunteer - before becoming an English teacher. I've travelled the world a couple of times, and once presented a ceremonial drink to the president of Fiji (and messed up the lines quite badly). I genuinely love reading, I watch too many films, I enjoy wild swimming and I could probably eat my body weight in chips!"
Sowena!

The House Leader for Sowena house this year is Miss Pollock.
"Hi! I'm Miss Pollock and I am the Head of Sowena House. As well as being a house leader, I am also an English teacher and love to be creative! In my spare time I like to go on walks with my dogs, Remus and Baxter (hopefully the Harry Potter fans will recognise the name!). I love working at HDS and cannot wait to support you in your time here!"

Aweni!
The House Leader for Aweni house is Mr Brown.
"I have worked for HDS for a total of 15 years now! At weekends and evenings you will often find me on Sennen beach where I have been a Surf Coach for the last decade! Before starting at HDS I worked as a Youth Worker with the Hayle Youth Project. I am happily married and have two lovely children. I love to surf, spend time with my family, fish, basically anything involving the sea you can count me in! My dislikes include walnuts and jelly babies!"
Tevi!
The House Leader for Tevi house is Mrs Sigrist Smith.
"I am Mrs Sigrist Smith and I am house lead for Tevi house as well as a Textiles and Catering teacher at Humphry Davy School. I love walking with my scruffy poodle who lives up to her name 'Tatty'. I have dual nationality and am half Swiss as well as Cornish! I love love love 'The Great British Sewing Bee' and am found often in my own little studio at home making clothing for myself, or toys for my little one, whilst eating a nice slice of cake! I am super proud to be house lead of Tevi house. Tevi is Cornish for grow; I think 'grow' is the best starting point for us all. To grow is to develop, to shoot up, to spring up but more importantly to do something over time; to raise, to rear, to nurture, to emerge to bloom to bud. We are all growing and blooming and with these accolades we strive to succeed and learn along the way. We are the colour orange for our house which also has excellent merit as it indicates joy, sunshine, happiness as well as a sense of general wellness and emotional wellbeing. 'It takes courage to grow up and be who you really are' E.E Cummings."
Medra!
The House Leader for Medra house is Mrs Thurston.
"I'm Mrs Thurston and I'm House Leader for Medra House and Head of Lower School (which includes years seven, eight and nine). I have been teaching at Humphry Davy School for eleven years and I love that the community feeling that I felt when I came for an interview at the school all that time ago, is still the same feeling I get now when I come to work every day!
Medra means aspire, which to me is all about belief in yourself. As Theodore Roosevelt, 26th President of the USA, once said 'Believe in yourself and you're halfway there!'. It is only with this belief in ourselves, and our own abilities, that we can begin to accept who we are and challenge ourselves to be better!"
Longya!
The House Leader for Longya house is Mr Ball.
"I am Mr Ball and the proud House Leader for Longya. I'm a PE teacher here at HDS, as well as Head of Upper School (Years 10 and 11), and have been at the school for 16 years. I enjoy most sports but have a particular passion for rugby and love spending time on the beach with my family during the summer. I also enjoy listening to podcasts, making sure I keep fit by taking part in regular exercise and eating chocolate! Come and find me and ask me anything about the school, you are going to really enjoy your time here."
---
Many of you have already completed our 'All About Me' booklet. However, if you have been unable to complete it, please contact us and we will be happy to send one to you.
To enlarge the images below, please click!