Examination Results 2022
Congratulations to the amazing Year 11 students graduating this summer from Humphry Davy School!
It has been our pleasure and privilege over the past five years to witness their dramatic and musical performances, creative flair and collaborative, compassionate and inclusive community spirit. Students have achieved local, county and national recognition and success in music and the arts, STEM subject competitions (Science, Technology, Engineering and Mathematics) and in a wide range of sports.
We are proud of the wonderful young adults and superb role models they have become for our younger students and the wider Penzance community. Year 11 students have helped raise thousands of pounds for local and national charities, have campaigned passionately against discrimination and promoted inclusion and equality of opportunity, and record numbers have achieved the Duke of Edinburgh Award, recognising their voluntary service, self-development and expedition skills.
Guided by the dedicated and experienced team of staff here at HDS, the commitment to their academic studies has now also paid dividends with students in the year group today celebrating a fantastic set of GCSE results. The hard work, positive attitudes and dedication of students and staff have been rewarded with many, many excellent grades and some amazing individual performances.
Special mention to Lucy, Joe, Ciara, Marley and Jemima who all attained 5 or more of the very top Grade 9s and to Laurent and Jemima who have made the greatest progress since SATs, way back in their primary school!
Demonstrating how we work to find and nurture the talents possessed by each and every student, just under half of all the cohort achieved the equivalent of the old 'grade A' in at least one subject. The highest proportion I can recall in my fourteen years as Headteacher here at Humphry Davy.
Initial analysis has identified particularly strong performance in Music, History, Spanish, Physics, Chemistry and Biology with large numbers achieving the very top grades. And students have firm foundations for future study with record numbers achieving the 'standard pass', equivalent of the old 'C' grade in English and Maths.
Parents and carers have every right to be proud of their children and my thanks as Headteacher go to you all for your wonderful support over the years. On behalf of the Governors and staff at Humphry Davy School, I would like to wish all our students 'Good Luck!' and continued success as they move on to the next stage of their education and careers. We look forward to hearing stories of your future achievements!
Our focus now is firmly on ensuring future year groups can mirror the success of the 2022 cohort.
My message to new Year 7 students starting in September and to any prospective parents, is that you can be confident and reassured from the 2022 results that hard work, determination and the support of our fantastic staff here at HDS will ensure children are well placed to achieve their dreams and fulfil their future ambitions.
Bill Marshall
Headteacher - Humphry Davy School
"Sincere congratulations to all the students in Year 11 celebrating their GCSE results today and on behalf of the governing body, my thanks to all the wonderful staff at Humphry Davy who have guided and supported you to such great achievements."
Terry Binns, Chair of Humphry Davy School Governing Body
"Humphry Davy is a wonderful school, full of opportunity and positivity. Choosing HDS was definitely one of the best decisions I made and I'm so happy it's all happened."
HDS Leaver
"HDS has helped me flourish into a creative and expressive individual. It's an amazing environment to grow in."
HDS Leaver
"Everyone is so positive. It is a wonderful place and you just get a real sense that you belong here and that you are welcome."
HDS Parent
"I have built some amazing bonds with my teachers; they are so lovely and supportive!"
HDS Leaver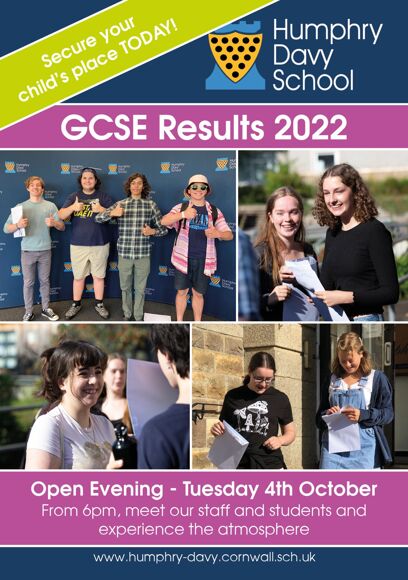 Supporting Students on Results Day
Supporting students who believe their results are wrong
Any student who is concerned about their results should speak urgently to their school or college, especially if their further education, university place or employment offer depends on a change to their overall grade.
If the student believes that an error has been made in the marking of their paper, they should speak to their school or college who will be able to contact the awarding organisation and provide advice on what to do next.
You can also email exams@humphry-davy.cornwall.sch.uk
Support available from the National Careers Service
Students can find out more about all of their education and training choices by visiting the 'Get the Jump' Skills for Life content hub on the National Careers Service website. During the exam results period, the hub will also have key information on resits, clearing, appeals and more.
Students can also chat directly to an expert adviser via webchat or by calling the National Careers Service exam results helpline:
0800 100 900
Thursday 18 August until Friday 2 September
Weekdays 8am to 8pm
Saturdays 10am to 5pm
---------------
Further guidance is availabe from Helen Richards (HDS Careers Advisor)
email: hrichards@humphry-davy.cornwall.sch.uk
Providing pastoral support to students
Results days can be a difficult time for students.
Ofqual has published a guide and other resources to help students prepare for results day, and we would encourage you to share these. This includes blogs from education psychologist Professor Kevin Woods.
There are various resources available for schools, colleges and parents, including the Child and Adolescent Mental Health Services (CAHMS) and NHS 111, who can assist in providing mental health support.
Young Minds has a range of resources available for the exam results period, including a parents' helpline (0808 802 5544) and dedicated guidance for students feeling disappointed with their results.
BTEC- Pearson information
Further information for BTEC students can be found here
Further information for parents of hereBTEC students can be found here