Examination Results 2021
Congratulations to a fantastic set of students!
Humphry Davy School students, parents, staff and governors are together celebrating the GCSE achievements of the 2021 cohort. It is a tremendous feeling and without doubt one of the greatest rewards as a teacher to watch a student's face and body language shift from nervous anticipation to absolute joy as they open their result envelopes.
We are incredibly proud of the success of all our students. In incredibly difficult circumstances, they worked exceptionally hard, overcoming numerous hurdles and challenges and I want to congratulate all involved. The hard work, positive attitudes and dedication of students and staff have been rewarded with many, many excellent grades and some amazing individual performances.
Yet again, the success of individual students places them in the top performers in the country with three students attaining nine Grade 9s at GCSE. Over a third of all students were awarded grade 7s or above (old 'A' and 'A*' grades) across the full range of subjects offered at HDS and the delighted Maths faculty stretched the most able with students awarded grade 9's in Further Maths in addition to GCSE Mathematics.
But, at Humphry Davy, we all know that success is not just measured by the number of top grades achieved. Alongside their tremendous academic success, we are equally proud of the wonderful young adults our students have become. Praised by all who know them as a tremendous year group with wonderful community spirit, they have been incredible role models for our younger students and the wider Penzance community. As well as raising awareness and campaigning on issues that affect us all - ranging from climate change to human rights and equality of educational access – they have also raised thousands of pounds for local and national charities. Record numbers have achieved Duke of Edinburgh Silver Award and with the unwavering support of their parents and families, they have achieved local, county and national recognition and success in music and the arts, STEM (Science, Technology, Engineering and Mathematics) competitions and on the sports field. And we will never forget their contribution to the incredible musical productions that helped build the sense of community that got us all through the challenges of the lockdowns; here is just one example https://www.humphry-davy.cornwall.sch.uk/2331/news/post/768/st-pirans-day-2021
Parents and carers have every right to be proud of their children and my thanks as Headteacher go to you all for your wonderful support over the years. On behalf of the Governors and staff at Humphry Davy School, I would like to wish all our students 'Good Luck!' and continued success as they move on to the next stage of their education and careers. We look forward to hearing stories of your future achievements!
HDS is a truly fantastic place with great staff and students, supported by a strong sense of community that's full of aspiration and ambition for each and every student. As we prepare to welcome the New Year 7 cohort in September, they can be confident and reassured from the 2021 results that hard work, determination and the support of our fantastic staff will leave them well placed to achieve their dreams and fulfil their future ambitions.
Bill Marshall
Headteacher - Humphry Davy School

"What a fantastic testament these GCSEs results are to the resilience and hard work of these young people who have persistently demonstrated all of the necessary skills to be successful in life.
This collective group have shown fantastic academic ability as well as the great spirit of confidence, positivity and energy that HDS students are renowned for. I am immensely proud to see so many of them today enjoying the success they so richly deserve. Well done to them all."
Kirstie Oliver, Deputy Headteacher

"With the news that exams would not take place and replaced by teacher assessed grades our students adjusted well to the changing demands, responding with dedication and maturity to the newly introduced evidence and assessment based curriculum. This motivation to succeed has been highlighted in the achievements of our year 11 this year, which have been well deserved.
We whole heartedly congratulate the class of 2021 on all they have accomplished, and we wish them the very best as they prepare to embark on their post-16 education and training."
Gareth Armstrong, Deputy Headteacher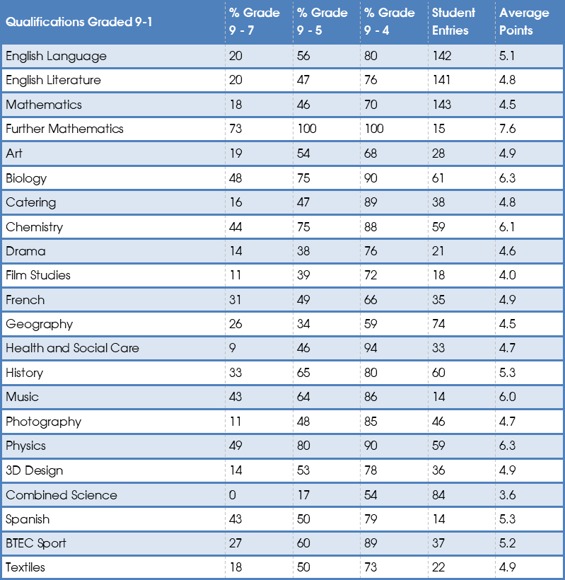 Connect with us
Humphry Davy School
27 Jul 2022
Today was the last day of an AMAZING 3 day Summer School. It was lovely to see our new Year 7s having so much fun! We hope you enjoyed it as much as we did! https://www.humphry-davy.cornwall.sch.uk/2331/news Have a great summer everyone...and see you in September!
Humphry Davy School
20 Jul 2022
This year's summer production was a compilation of three classic 'Grimms' Tales', Little Red Cap, Hansel and Gretel and Rumplestiltskin. Our students were gifted with beautiful sunshine meaning their play could go ahead on the field as planned. It was fantastic to see the students in their element as they showed off the fantastic play they have been rehearsing tirelessly. The dedication, time, effort and talents of our young people really shone through, enabling us to bring this show to life, a huge 'well done' to everyone involved!
Humphry Davy School
19 Jul 2022
Activities Week last week was a great success and we hope you enjoyed it as much as we did! Here is a great video showing some of the awesome things our students and staff got up to in the sunshine!
Humphry Davy School
15 Jul 2022
What a jam packed Activities Week we've had! Our students have had lots of fun out and about in the brilliant sunshine…. experiencing new adventures, making new friends, developing confidence, and making memories. Here's just a few of the many many photos we've taken. We'll be posting more photos and a video next week on our website, and be sure to check out our newsletter at the end of term to see lots more…. After such a busy and active week, we hope everyone has a restful weekend, and we'll see you all on Monday!
Humphry Davy School
12 Jul 2022
Activities week is in full flow and we are having so much fun already! With so many exciting experiences on offer, our students have certainly been getting stuck in…and it's great to see so many smiling faces! Here's a snapshot of some of the fun so far. We will be uploading more photos to our website throughout the week so be sure to keep an eye on our news story here: https://www.humphry-davy.cornwall.sch.uk/2331/news/post/1194/activities-week-2022
Humphry Davy School
11 Jul 2022
It was amazing to see the whole school get involved in our annual Sports Day this year! The sun was shining, and the atmosphere was fantastic, as everyone gathered on the sports field for the track and field events! Well done to all involved….what a brilliant day!
Humphry Davy School
5 Jul 2022
The HDS 'Class of 2022' gathered at Tregenna Castle last week, where they celebrated in style with an 'under the sea' theme to mark the completion of their five years of secondary education with us. Despite the weather, with the clouds deciding to open up just as our graduates began arriving, everyone had a smile on their face as they showed off their beautiful dresses and smartest suits, ready to enjoy a night of fine dining and fun. We wish you all the best of luck with your future endeavours and couldn't be prouder of the young adults you have become. We look forward to seeing you again on Thursday 25th August for Results Day. More photos can be found on our website!
Humphry Davy School
4 Jul 2022
Humphry Davy School's choir had a fantastic time performing at the Minack Theatre last week in the Cornwall School's production of 'One Small Bird' - a song cycle inspired by the RSPB's 2014 discovery of the migratory route of one of Britain's rarest birds, the red-necked phalarope. The Red-necked Phalarope is a tiny creature. Weighing no more than a packet of crisps, it successfully crosses the Atlantic between Shetland and Peru every year, passing through environments as diverse and challenging as the icy regions of the north and the storms of the Caribbean. This little bird's journey tells an inspiring story about strength and resilience in the face of harsh conditions, and of the unstoppable drive for survival among earth's creatures. One Small Bird has been performed by young people and community groups across Britain and we are thrilled have been a part of this production.
Humphry Davy School
4 Jul 2022
Last week, HDS students competed in the Cornwall School Team Showjumping Competition and we were delighted when Rosie (year 9) and Mr Pickles won the individual 60-65 cm class against 40 other competitors. Rosie did exceptionally well, showing great determination having nearly stopped jumping altogether after a bad fall two years ago. Florence (year 7) on Skye also jumped a clear round. Nina and Kacey (both year 9) also made a great effort but, with Kacey's horse Jasper spooked by the wind and rain, and Nina riding a friends horse Otis, which she had only jumped twice before, they were unfortunately eliminated. All four girls had fun despite the horrendous weather and it was great to see them out competing with the support of their family and friends. Well done girls!
Humphry Davy School
1 Jul 2022
On Wednesday our students took part in Sports Day! We were so lucky with the weather and everyone had a great day taking part in the various sporting events we had running across the school site. Well done to everyone for taking part, here's a shot from the day! Be sure to check out our website for more photos and a video which will be posted soon!
Humphry Davy School
29 Jun 2022
We are so looking forward to sharing this years play with you all. Tickets are on sale at reception now!
Humphry Davy School
28 Jun 2022
What an amazing time we had this year at Mazey Day! We were so lucky with the weather, and WALL-E really shone in the sunshine! Thank you to all who came along to support us, and special thanks to all the students and staff involved in making this year's Golowan a special one! We can't wait for next year!
Humphry Davy School
25 Jun 2022
Here at HDS we LOVE Mazey Day and we couldn't have been more thrilled to be involved again this year! We've had an amazing day filled with smiles, sunshine and music (with just a touch of rain)! We were so proud to show Wall:E to you all, we hope you loved him just as much as we do. Enjoy the rest of the fantastic Golowan celebrations and be sure to visit us at the Quay Fair Day tomorrow to continue the festivities! Happy Mazey Day everyone! Golowan Festival Official Page
Humphry Davy School
25 Jun 2022
We are having the best day! Now the big reveal is over, here is a short video on the making of Wall:E and his friends. If you missed us this morning be sure to come down and see us this afternoon in the 3pm parade or visit our stand next to the Humphry Davy statue to hear our wonderful musicians.
Humphry Davy School
25 Jun 2022
Happy Mazey Day everyone!! We are so excited to be involved again this year. The sun is currently out and we are busy prepping our sculpture for all to see in the 11am and 3pm parades! Don't forget to join us for music all day at the Humphry Davy statue. See you soon!
Humphry Davy School
24 Jun 2022
Last week, with the sun shining brightly, we were delighted to plant a commemorative tree to mark the Queen's Platinum Jubilee. Our Jubilee dancers, having just returned from a filming session in Morrab Gardens, assisted Headteacher, Mr Marshall, with the planting. We look forward to watching the beautiful tree grow with our students over the coming years…and we are very much looking forward to being accompanied by our dancers at Mazey Day tomorrow. Be sure to join us for the 11am and 3pm parades! We'll be sending out updates throughout the day!
Humphry Davy School
17 Jun 2022
Our Year 11 students had their last English exam on the 10th June and celebrated with some 'book themed' treats. This included some 'Lord of the Flies' cupcakes made by Miss Fairweather. How tasty do they look? Well done Year 11!
Humphry Davy School
16 Jun 2022
Recruiting now! We are looking to recruit a well-organised animal carer who will be responsible for the day to day care of all small animals within our animal care unit. We have a range of different small animals on site including rabbits, guinea pigs, chinchillas, degus, gerbils and a school cat! For more information on the role and an application form please visit our website. https://www.humphry-davy.cornwall.sch.uk/2343/staff-vacancies-1
Contact Us
Headteacher William Marshall
Humphry Davy School, Coombe Road, Penzance,
Cornwall, TR18 2TG
Cookie Policy:
We use cookies on this site to improve your user experience.
More Information