Covid-19 Testing
Home Testing kits for students for continued twice weekly testing
Up to one in three people who have COVID-19 can spread the virus without knowing. This is because they have no symptoms. To reduce the spread of the virus, we need to identify those individuals. We can do this by carrying out Part 2 of the testing programme – 'testing at home' twice every week, 3-5 days apart following our successful Part 1 'in-school' testing programme.
Thank you for your support so far and for your children's superb attitudes to Part 1 of the testing programme at school. The testing staff have repeatedly commented how polite and considerate Humphry Davy students are (we know!).
The testing programme continues to be by consent from parents (for children under 16) and from students (over 16). You may opt into the home testing even if you did not opt into school testing.
We will support our staff and pupils throughout, and have tried to answer many of the questions you may have with the documents linked from this page. If there is anything else please contact us:
Tel: 01736 363559 or email: enquiries@humphry-davy.cornwall.sch.uk
Covid related queries: covid@humphry-davy.cornwall.sch.uk
Taking the test
Students should conduct a test twice a week (3-5 days apart). We will give students a leaflet with instructions on how to do the test with the kit. We recommend that the test is done when your child has returned home from school for the day as you will need sufficient time to carry out the test, wait 30 minutes for the result and then upload this to the school via testregister.co.uk and to the NHS via Gov.uk.
We encourage you to register the result of every single test on this system, whether positive, negative, or void. NHS guidance states that children aged 11 should be tested by an adult, whereas students aged 12-17 should self-test and report with adult supervision.
Please watch the useful video below, which shows you how to take the test;
What should you do after the test?
If anyone tests positive - you, your household, any support bubbles you are part of should self-isolate immediately in line with NHS Test and Trace guidance for 10 days.
You then need to report your child's result at using the school's "testregister" system (more on this below), which will then link to also report at NHS Test and Trace.
Humphry Davy School will be alerted to the result and we will contact home to advise on next steps, including ordering a confirmatory PCR test.
If the result of the test is unclear (void) you should do another test.
A negative result does not guarantee that you are not carrying the virus. So, you should continue to follow social distancing, and other measures to reduce transmission such as wearing a face mask and regularly washing your hands and observing social distancing.
If you or anyone in your household gets symptoms of the virus you should follow national guidelines on self-isolation and testing.
Why take part?
Taking part in testing is voluntary and all students will be able to attend school whether they take part in testing or not.
We are strongly encouraging all students to take part. Testing at home will allow your child and other students/staff to attend school as safely as possible.
Registering Results
It is important to note this system is linked to your child's school email account which means you will need to have your child with you when recording test results onto testregister.co.uk. Parents and carers do not have their own login to this system.
Test results should preferably be registered using the Google Chrome web browser on a computer or laptop, but it should also be compatible on a recent tablet or smartphone.
Once a test has been completed, the student will need to visit https://testregister.co.uk/login
The email address entered here must be the student's HDS email address. This is the address students have been using to access MS Teams and their Office 365 suite whilst remote learning has been taking place (click here to open the email login page)
An email will be sent from testregister.co.uk to the student's HDS email account, which contains a single-use link which grants access
Typically, the email arrives within 20 seconds
The link is valid for 2 minutes, and should therefore be used without delay
A screen is presented prompting you to "Submit a test result"
"Step 1" prompts you to provide test result information (test date, test strip ID and the test result). Click "Submit result" when you are ready, and this saves it on the HDS system and sends a confirmation email to the student's account.
"Step 2" is then displayed which directs you to "Submit result to GOV.UK". Clicking redirects you to the GOV.UK website, where you will need to provide the test information again.
It is a legal requirement to report test results to GOV.UK. The GOV.UK website is a completely unrelated part of the testregister.co.uk reporting process and you are free to use whichever email address you wish at that stage.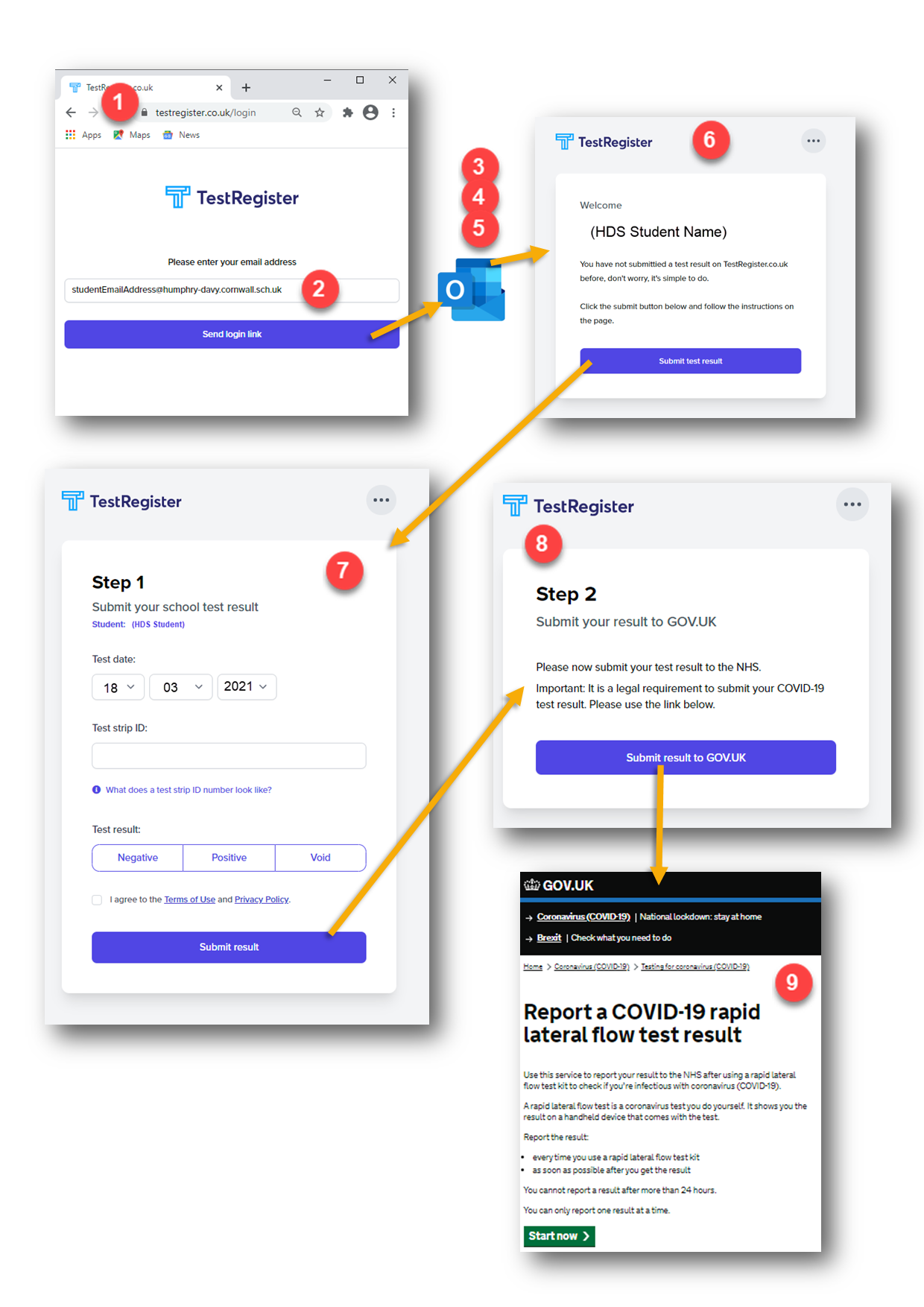 Overview of uploading to the testregister system(Click on the image to download a larger version, or look for the file called "17.03.21 Testregister overview steps.pdf" in the file listing below)