Examination Results 2019
2019 Results
Humphry Davy School 2019 GCSE Results
Congratulations to a fantastic set of students!
Humphry Davy School students, parents, staff and governors are together celebrating the GCSE achievements of the 2019 cohort.
We are proud to be an inclusive community school and I want to congratulate all involved as the hard work, positive attitudes and dedication of students and staff has been rewarded with many, many excellent grades and some amazing individual performances. Yet again, the success of individual students places them in the top 1% of results in the country with two students attaining nine Grade 9s at GCSE! (To put this in context, less than 1000 students from a cohort of over half a million achieved that last year across the country!)
It is a tremendous feeling and without doubt one of the greatest rewards as a teacher to watch a student's face and body language shift from nervous anticipation to absolute joy as they open their result envelopes.
English Language, English Literature, Mathematics, Geography, Spanish and the Arts have all continued their trend of improvement. Overall, over a third of all students achieved grade 7s or above (old 'A' and 'A*') and the delighted Maths faculty stretched the most able with four students attaining the almost unheard of very top 'A* Distinction' grades in Further Maths and one student achieving the maximum possible marks in the English Literature GCSE.
But at Humphry Davy we all know that success is not just measured by the number of top grades achieved. Praised by all who know them as an exceptional year group with wonderful community spirit, the Year 11 have been fantastic role models for younger students and the wider Penzance community. They have contributed to charities and performed at the highest levels of sport, music, drama, dance, textiles design, catering and much more.
Parents and carers have every right to be proud of their children and my thanks as Headteacher go to you all for your wonderful support over the years. On behalf of the Governors and staff at Humphry Davy School, I would like to wish all our students 'Good Luck!' and continued success as they move on to the next stage of their education and careers. We look forward to hearing stories of your future achievements!
The school is currently oversubscribed and as we prepare to welcome the New Year 7 cohort in September, they can be confident and reassured from the 2019 results that hard work, determination and the support of our fantastic staff will leave them well placed to achieve their dreams and fulfil their future ambitions.
Bill Marshall
Headteacher - Humphry Davy School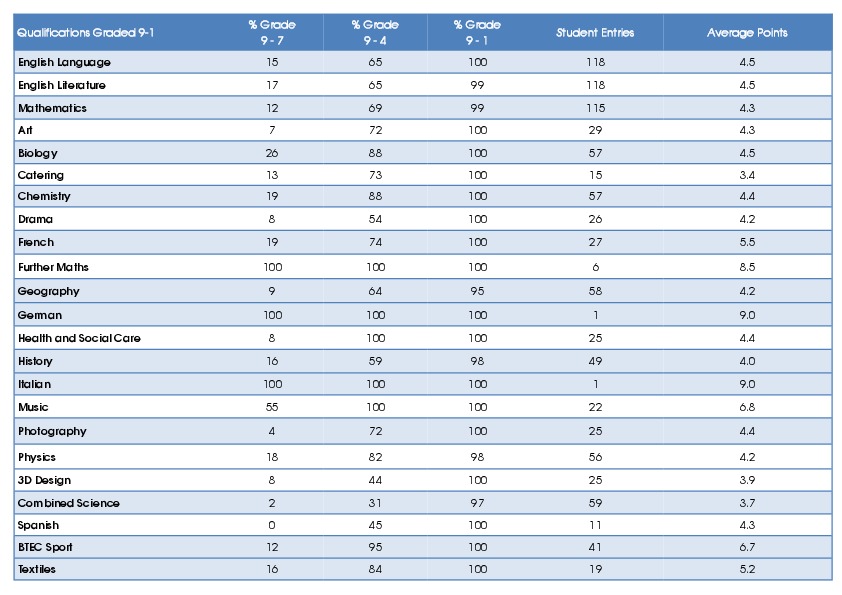 Connect with us
Humphry Davy School
19 Oct 2020
Congratulations to Thea on being a winner of the The Bright Ideas Challenge 2020! The challenge was to come up with a 'Bright Idea' to solve an energy problem faced by a city in 2050. Thea's entry was both innovative and exciting...we are very proud of you Thea! As the regional winner, Thea has won £2,500 to boost our already extensive STEM offer here at HDS. In addition, Thea has received an amazing STEM goodie bag packed with cool STEM kit and subscriptions. Well done!
Humphry Davy School
14 Oct 2020
We loved welcoming you all!
Humphry Davy School
14 Oct 2020
Here @ HDS we are very excited to read about the launch of Cornwall Council's Manifesto which sets out how it wants to make Cornwall the UK's leading rural creative economy; shining a light on the creative economies of our rural region. As a community school in the heart of Penzance, we are proud to be involved in many community festivals and activities throughout the year, with the highlight of the year being 'Golowan'! The Manifesto, which sets out plans to provide more support for businesses in the creative and digital industries, also highlights a Creative Cluster planned in Penzance, Truro and Liskeard. We watch with interest as the plans go before the Cornwall Council's economic growth and development overview and scrutiny committee when it meets on Tuesday (Oct13), and we look forward to the boost this may provide for our local economy, as well as the opportunities for us to expand our 'creativity in the community' over the coming years!
Humphry Davy School
13 Oct 2020
This week our career of the week is:- A SOLICITOR!
Humphry Davy School
2 Oct 2020
It has been our absolute pleasure to host all the fantastic Year 6 pupils from our local feeder schools over the past two days. Such amazing talents on display! We look forward to welcoming you back very soon. Remember, 'The more you put in to HDS, the more you will get out of the opportunities!' Check out our 'Enrichment' video to see what you could be doing when you join Humphry Davy School.
Humphry Davy School
2 Oct 2020
This week our career of the week is:- A MAKE-UP ARTIST!
Humphry Davy School
25 Sep 2020
This week our career of the week is:- A WEB DEVELOPER!
Humphry Davy School
15 Sep 2020
Here at HDS we are dedicated to providing students and parents/carers with high level Careers Information. This includes sharing labour market information which is essential in the ever-changing job market we have today. This week our career of the week is:- A VET! For more information or guidance please contact our careers adviser Mrs Richards on hrichards@humphry-davy.cornwall.sch.uk
Humphry Davy School
11 Sep 2020
What a brilliant first week back we have had at HDS, it has been great having the usual buzz around the site again. Thank you to all students and staff for making this week so successful, it has certainly been a different start to the academic year but in true HDS fashion everyone has taken it within their stride. Welcome back everyone!
Humphry Davy School
7 Sep 2020
We are looking forward to welcoming Year 5 and 6 pupils and their families to our Open Days this year. We will be operating a booking system for tours of our school in order to operate in a Covid Secure manner. Tours will be with a senior member of staff, and will be in groups of no more than 10 people. To book your tour visit www.humphry-davy.cornwall.sch.uk to arrange a convenient time.
Humphry Davy School
23 Jul 2020
Year 11, Class of 2020. You made such an impact on us all and inspired us with your resilience, drive and determination. A hugely memorable year group, whose year was brought to an abrupt end with the arrival of Covid-19 and lockdown. We want to end this year with a video to capture some heartfelt message from the staff against the backdrop of the school you have spent the last 5 years.
Humphry Davy School
16 Jul 2020
Our music team have been working hard again creating another fantastic virtual ensemble! In support of the Cornwall Music Service Trust, our extremely talented musical students (both past and present) have put together this brilliant musical collaboration for us all to enjoy. Another polished piece from our 'New Notes Jazz Band' who continue to inspire us with their talents. This year has certainly been one that we will all remember and what better way to bring this school year to a close than to spread the joy of music. Well done everyone, another incredible production; produced right from your very own homes!
Humphry Davy School
8 Jul 2020
On Friday 10th July at 10am, the Prime Minister will be giving an address to all school leavers which will be broadcast on Facebook and YouTube (links below) Year 11 students please tune in! A recording of the address will be available to view on both platforms. Facebook (https://www.facebook.com/borisjohnson) YouTube (https://www.youtube.com/user/Number10gov) We will be in touch very soon with plans for the year 11 results day!
Humphry Davy School
1 Jul 2020
At HDS we place a genuine focus on students' wellbeing alongside their academic progress. All students follow our detailed Citizenship and Personal Development Curriculum which includes lessons on physical and emotional wellbeing, being safe, developing positive relationships and strong personal qualities, careers and being happy. During lockdown we have continued to support our students in these ways setting work and providing regular wellbeing tasks. In June we used the Action for Happiness 'Joyful June' calendar, encouraging students to complete daily actions to look for what's good, even in difficult times, embracing and spreading happiness. Our video shares some of the wonderful things our students got up to in June 2020. In July our students will complete the 'Jump Back July 2020' calendar with daily actions to help them be more resilient in challenging times.
Humphry Davy School
1 Jul 2020
We really hope you enjoyed celebrating our 'virtual Mazey Day' with us! We had a lot of fun, and we really can't wait until next year when, hopefully, we'll all be able to celebrate in traditional Golowan style. Our 'Mazey Day friend', ET, hasn't 'phoned home' just yet and has extended his stay with us at the school for another week. He's been exploring the school site and, whilst he brought a smile to the faces of everyone he met around the site, we're not sure that our school cat was all that pleased to see him! #ETstrikesagain
Humphry Davy School
27 Jun 2020
Today would have been Mazey Day in Penzance. A day full of celebration, music, dancing, and parades!...a day which Humphry Davy School very much looks forward to every year! This year's festival theme is 'Golowan Gets Connected' in celebration of the 150th anniversary of the first telegraph cable landing on the beach at Porthcurno. The theme certainly couldn't have been more appropriate for this year and what an amazing job our brilliant students have done. In years gone by, our students would have been busy practising their musical performances, and putting the finishing touches to our Mazey Day Structures during lessons and after school…we haven't let 'lock down' stop us! Our students and staff have been creating their own themed masterpieces at home. Withy structures, drawings, paintings and cakes were all crafted, photographed and filmed…and we have brought everything together to celebrate with our community #Golowanonline #theshowmustgoon #mazeydayonline Golowan Festival Official Page
Humphry Davy School
24 Jun 2020
This week, Humphry Davy School is joining the Penzance community online to celebrate the annual Golowan Festival. At a time when our students would traditionally have been performing music live at the Humphry Davy Statue on Mazey Day, our talented 'Band of Fiasco' decided not to let the current circumstances dampen their Golowan spirit! Along with our fantastic music department, the band practised the well-known song 'Come Together' by The Beatles and created their very own music video straight from their own homes! This year's festival theme is 'Golowan Gets Connected' in celebration of the 150th anniversary of the first telegraph cable landing on the beach at Porthcurno. The theme certainly couldn't have been more appropriate for this year and what an amazing job our brilliant students have done. We're sure you'll agree that our future musician stars have created a polished piece which is truly a fantastic production, well done to all involved! Make sure to check out our website this weekend for more, exciting, Mazey Day fun! To keep up to date with Golowan Online events, visit Golowan Festival Official Page.
Contact Us
Headteacher William Marshall
Humphry Davy School, Coombe Road, Penzance,
Cornwall, TR18 2TG
Cookie Notice: We use cookies on this site to improve your user experience.