Parents' Information Evenings (Information to Access Portal)
Parental Portal
Parents are able to view information about their children, such as their reports, attendance, behaviour and timetables as well as making Parents Evening bookings and keeping contact information up-to-date.
Access the Portal by logging in via the following link:
https://portal.humphry-davy.cornwall.sch.uk
A helpsheet and video has been created to guide parents through the process of logging on and making a Parent's Evening booking. The video is below and the helpsheet is available to download via the documents at the bottom of this page.
If you experience any difficulties with this system, please email the school's IT Helpdesk on portal@humphry-davy.cornwall.sch.uk or call the school reception on 01736 363559.

Useful Hints for Parents
If you need to reset your password then click the "Don't know your password?" link on the login page, then enter your email address. You will be sent an email with instructions on how to change your password.
If you have a popup blocker running this can stop reset password and add email address prompts from displaying when logging in. This will stop you from browsing to other pages in the Portal. In the drop down link below we have provided guides showing you how to add an exception so the Portal isn't affected.
Please note: In Safari the popup blocker must be turned off, there's currently no way to add an exception. It can be re-enabled once you've finished using the Portal.
If you are unable to type in the username or password boxes on the login page and are using a mobile device, then please turn it sideways into landscape mode. This will then enable you to type your credentials.
Your Guide to the Parents Evening Booking System
Using a web browser (Chrome, Firefox, Internet Explorer, etc.) browse to https://portal.humphry-davy.cornwall.sch.uk and log in with the username and password that has been posted to you.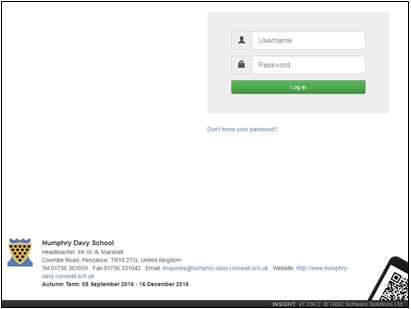 To view your parent's evening click on the 'General' tab and select 'Parents Evening'.

From here you can make bookings by selecting the time you would like to meet each teacher.
Once you have made all the bookings you would like you can download a printable PDF of your selected appointments using the blue Download button in the top right corner.
Your bookings will also be available to view and edit when you return to this page.
Popup Blocker Exception Guides